Gabrielle Union Reveals Her Winter Haircare Essentials
So simple, but so important.
@gabunion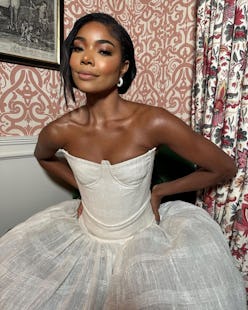 We may receive a portion of sales if you purchase a product through a link in this article.
Yes, celebrities may seemingly have the advantage on good hair thanks to their VIP access to top stylists, products, and professional treatments. But, at the end of the day, no one is safe from the wrath of harsh temps and external elements. Just ask Gabrielle Union, who shared both her qualms and simple solutions to winter's harsh effect on natural hair — even in sunny Los Angeles, which presents its own set of seasonal problems.
"It's November, definitely a long summer here, but with the sun beating down on your head, it's going to dry [your hair] out," she said to TZR at a recent event celebrating the launch of the new Styling Glaze from her brand, Flawless By Gabrielle Union. "If you add in color or the other things that we add into our hair, it's just going to be stripping [it]. If you're in colder weather, you're wearing hats, any kind of hair covering that's not lined in silk or satin, you're also stripping your hair. It's just literally sucking the moisture out of your hair."
The actor says she always jokes with her longtime friend, hairstylist, and Flawless business partner Larry Sims that you can never be too moisturized. "That literally goes for all hair types, but certainly [natural] hair types and textured hair," she says. "You have to put in all the moisture that is being sucked out of you."
Sims, who's been the master behind some of Union's best hair moments for some 20 years now (as well as other major celebs like Janet Jackson, Lupita Nyong'o, and Rosario Dawson), seconds this notion, saying a rich mask is a "game-changer" in locking in moisture and keeping strands soft and hydrated. "You really want to make sure that, because the weather's so harsh and we're wearing skullies and we're wearing wool hats, we forget sometimes to really treat our hair with hydration," he says. "That goes down to treatments."
Speaking of treatments, another crucial one Union and Sims push for winter styling is — obviously — Flawless' new Styling Glaze. The actor says the natural oil blend of bacuri butter, rice oil complex, pequi oil, and lilac leaf extract is key to helping her achieve the perfect slick-back look, or as she likes to call it, "a facelift," for a chic seasonal look.
"If you love a slick back and you don't want it to go anywhere [this is for you]," Union says. "You want the ingredients to not work against you in the long run, which is why [the glaze] took a little longer. We wanted our ingredient story to be not just good for the environment, but I also needed it to work."
Indeed, this seems to be the core philosophy behind Flawless' product roster, which Union and Sims have worked on side-by-side since its inception in 2017. Union explains the brand was a natural progression in the duo's 20-year relationship (they met while the actor was filming Bring It On in 2000!). "Aside from being my best friend, he's my hairstylist," she says. "When I got presented this opportunity for a hair line, I was like, 'He has to have ownership. He has to have real equity.' It's not just like we're going to pay him for his time. His time is the company, so he needs to be compensated and acknowledged for that. I just wouldn't do it any other way."
Other key influences in Union's hair journey these days are her own children, particularly daughter Kaavia James and step-daughter Zaya Wade. At just five and 16 respectively, the two have become style icons in their own right and have helped shape and mold Union's own approach to beauty and hair.
"Listen, Zaya is such an academic, so her mood boards are like PowerPoint presentations," Union says, referencing her it-girl step-daughter, who is now a staple at fashion shows. "She went to astrobiology camp. The way she looks at fashion and her space in the world, it's just very organized [...] But she's so open to experiment with her looks." As for Kaavia (who also boasts a cool 1.9M following on Instagram), her sense of style can only be described as "free," according to her mother. "She is the eternal princess. She just loves her curls."
From them, the actor says she's learned to be more comfortable with experimentation. "It doesn't have to be [a specific way all the time]," she explains. "'But what if [everyone] hates it?' Who gives a sh*t. Did you like it? Great. Did you feel amazing? Great. [With me] I take very measured risks. They live free and it shows, and I'm learning to live crazy."