Ryan Gosling And Eva Mendes' Daughter Just Made A Rare Appearance—And She Is Adorable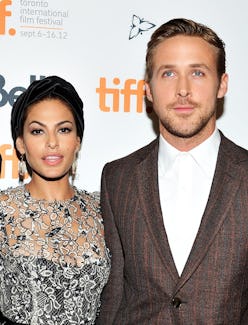 Ryan Gosling and Eva Mendes are notoriously private when it comes to their personal life (seriously, the main image for this post was one of very few of the couple together). So we were surprised and delighted to see Eva out and about in New York with their older daughter, Esmeralda, in tow. The three-year-old sported pigtails, bangs and a cute polka dot dress for a look that definitely adds her to the list of the stylish toddlers who inspire one TZR editor's wardrobe choices.
Eva looked casually polished in skinny jeans, a printed button-up and a blue cross-body bag accessorized with what we assume is Esmeralda's blankie. Scroll down to see the pic.
Homepage photo: Getty Images