6 Times Prince William And Kate Middleton Were The Cutest
UK Press via Getty Images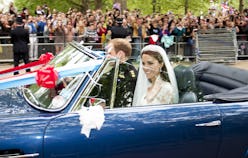 Today marks the 6th anniversary for one of our favorite couples, the Duchess and Duke of Cambridge. Practically every time Prince William and Kate Middleton are seen in public, it's a moment that puts even our most romantic relationships to shame. Okay not really, but you've got to admit you can't help but want to watch these two—and dare we say, double date with them? From dressing up together at glamorous galas to showing their down-to-earth cuteness at sports events (in jeans and sneakers!), these two are the perfect balance of being the ultimate relationship goal and being totally relatable. To celebrate their special day, we've picked six occasions that embody the different reasons Will and Kate are pretty much the most adorable couple ever, including picture perfect family outings, an enviable dinner with another favorite couple, and—duh—the day the made it official.
London Marathon, 2017
We love seeing the couple get goofy with each other, which is exactly what we got a glimpse of during candid moments at the London Marathon this month.
Arriving in Canada, 2016
When the royal fam touched down for a tour of Canada last year, they were picture perfect in coordinating outfits.
Safari in Africa, 2016
During a trip to an Indian national park, Will and Kate couldn't keep their eyes off each other—even with all the wild animals abound.
Dinner in London, 2016
Kate and Will plus Michelle and Barack? When these two couples had dinner together in London last year, it was the dreamiest double date ever.
Dinner at the Met, 2014
We always love seeing Kate get glam, but when the duo gets dressed up together for a date night, its even better.
Wedding at Buckingham Palace, 2011
These two have had dozens of swoon-worthy moments, but it's hard to top their dreamy royal nuptials in 2011.