Pippa Middleton Just Started A New Wedding Trend With This Crazy Rule For Her Guests
Ricky Vigil M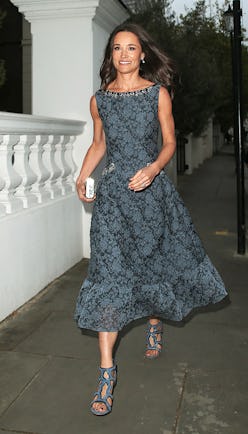 Because weddings—let alone high society, royal-adjacent weddings—aren't stressful enough, Pippa Middleton has assigned her guests the daunting task of bringing not one, but two outfits to her upcoming nuptials on May 20. Reportedly one outfit is for the ceremony, planned for St. Mark's Church in Englefield, Berkshire, and one is for the reception, which will be held at her parents' estate. Cool, we'll just dig something else out of our closet that's fit for one of the most photographed events of the year, her guests are probably thinking. NBD.
In light of this revelation, many have speculated on why the bride would make such a high-maintenance request. We're siding with the camp that points to a themed reception. But what theme would require guests to drastically change their attire between ceremony and reception? A few predictions:
1. Emoji (classic)
2. This Is Us (actually a thing that happened)
3. A white party (so Real Housewives)
4. Disco (we already know she's a fan, so our money's on this)
But in all seriousness, is this going to be a thing now? Brides, please don't make this a thing.
(Related: Where exactly will the guests change?)