Nicole Kidman Gets Hilariously Flustered Defending Her Emmys Kiss With Alexander Skarsgård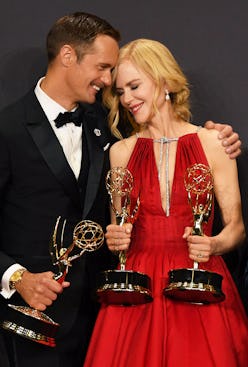 Remember when Nicole Kidman and Alexander Skarsgård full-on kissed on the lips at the Emmys, right in front of Keith Urban aka Nicole's husband, and the internet promptly freaked out? And Keith just stood there applauding like it was totally normal, and the three of them never mentioned it again? Yeah, us too. But now, we finally have an explanation—sort of.
Nicole was on The Graham Norton Show when Graham pulled up an image of her and her on-screen husband locked in the aforementioned embrace.
"I did kiss [Alexander], but you gotta understand, I did everything with Alex. … I've got an amazing, supportive husband who I love more than anything in the world, and I gave Alex a congratulatory kiss, and he's like a mannequin," she explained. "I mean, not a mannequin. I'm done," Nicole said with an embarrassed laugh, in a spot-on impression of us when we're being interrogated about a new crush.
Let's unpack that for a hot second, then you can get back to your regularly scheduled day that's not filled with Skarsgård kisses. He's like a mannequin. It makes no sense in the context, and yet we are living for this new phrase. To quote the poet Justin Bieber, "What do you mean?" We tried plugging "like a mannequin" into Google, but all that came up were YouTube videos about the mannequin challenge so that was a dead end. Regardless of whether we understand it or not, we're going to try and work it into our vernacular somehow, word-of-the-day style.
It's okay Nicole, we'd probably be speaking nonsense if we were talking about kissing Alex, too.
Check out the clip for yourself below.