Finally! Meghan Markle And Prince Harry Make Their First Public Appearance
WireImage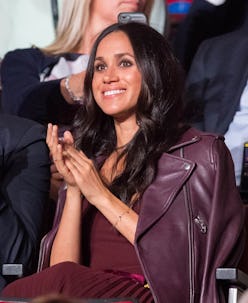 Update September 25, 2017:
Alas, we spoke a little too soon! In a romantic twist to their famously private love affair, Prince Harry and Meghan Markle just made their relationship photo-official—a day after the couple was spotted sitting in separate sections at the Invictus Games in Toronto. The much-anticipated moment marks the first time the royal and the actress were spotted walking hand-in-hand, and it's the highest level of PDA we've ever seen from them. We can't help but root for these two.
Photo: Splash News
Original post September 24, 2017:
We've been patiently awaiting the day that we first witness the public debut of power couple Meghan Markle and Prince Harry. And just a couple of weeks ago we learned that we wouldn't have to wait much longer, since the two were set to attend Toronto's Invictus Games together on Saturday. Well, the buzzed-about duo did in fact pop up at the sporting event, but it wasn't quite the relationship-defining moment we'd hoped for. Harry and Meghan (have we come up with an official nickname for them yet?) were actually seated several rows apart from each another, making it impossible for anyone to snap their inaugural photo as a couple. Looks like we'll be waiting a little longer for them to take the next step, but for now—as the actress told Vanity Fair—they'll just be "really happy and in love" in private.