Kate Hudson's Hack For Dealing With Anxiety Is So Relatable
Getty Images for Fabletics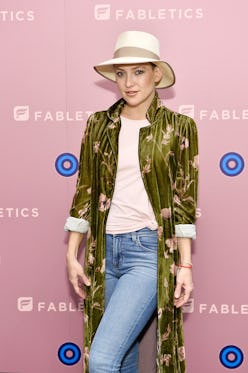 Kate Hudson is an entrepreneur, mother and Oscar-nominated actress, and while she's incredibly accomplished, she's also incredibly relatable. (We know, that word is overused, but it's genuinely applicable here.) We caught up with Kate at the Fabletics store in the Del Amo Fashion Center Mall in Los Angeles, where she unveiled the Fashion Targets Breast Cancer collection for her activewear line.
Kate, who is a cofounder of Fabletics, is back for her second year as ambassador for FTBC, a global campaign launched by the CFDA. "Working with the CFDA as a fashion company is so nice," she says. "I couldn't have asked for a more exciting collaboration." The collection (see the pieces below) is available now through October, with a portion of proceeds directly benefiting the FTBC campaign.
Wearing many different hats is bound to cause its fair share of anxiety. Here's how Kate gives herself a pep talk when she's feeling scared or nervous about something: "I remind myself that nobody cares. I'm creating it for myself, and at the end of the day, if I fall on my face or if I fail, that's all it is and it's fine," she says.
And, because we always want the skinny on how A-listers manage to look flawless at all times, we ask Kate to spill the deets on her morning routine, which, it turns out, is quite practical. "I just wash my face with water," she says. "Then I put on some kind of moisturizer and I'm out the door, because I've got two kids at two different schools. So it's basically chaos."
As for her evening regimen, we were expecting the standard "meditate" or "turn off my phone" answer—aka the lemon water of nighttime routines. Instead, we get a response that is literally us: "I watch recorded episodes of Fixer Upper," she admits. We then feel compelled to share with her the heartbreaking news that's just been announced—the show is ending after this season. "I can't even handle it," she says sorrowfully. Same, Kate. Same.
Style That Supports