Justin Timberlake Serenaded Jessica Biel For Their Anniversary And We Are Not Okay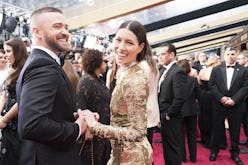 Justin Timberlake and Jessica Biel are currently battling it out with Ryan Reynolds and Blake Lively for top billing on our list of #CoupleGoals. JT and JB have a slight edge this morning, thanks to the happy anniversary message JT posted on Instagram. (The couple celebrated their five-year anniversary yesterday.)
He began the caption with: "#TBT to a late-night freestyle session on a break in the studio—YES I've been back in the studio cooking! But, today is even more special for me because five years ago, on this day, I became the luckiest man in the world when I exchanged vows with my best friend. This song was our first dance."
Okay, if you're not legitimately freaking out right now you have no heart. First, we're in love with how much he loves Jessica. Second, JT is back in the studio—take a moment to process that.
Moving on to the next swoon-worthy part of his message: "To my beautiful @jessicabiel: You have taught me so much about what a true love means. I can't put into words what these last five years have meant to me, so… 'Listen to the melody 'cause my love is in there hiding….'"
Now, JT could have posted a cute photo of the two of them, and we still would have been screaming over how cute this is. But no, he one-upped every happy anniversary post ever by posting a cute photo and a series of videos of him singing "A Song for You," dedicated to Jessica. Here's the post for your viewing pleasure (if you can even see it through your tears):
Congrats, boos! You've found love in a hopeless place (to quote another superstar artist).