How To Be Instagram Famous: Tips From 10 Models, Bloggers and Musicians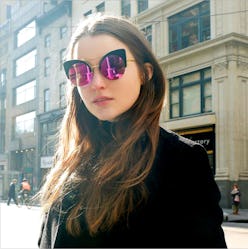 Despite the prevalence of Von Dutch trucker hats, bedazzled Sidekicks, and studded belts, life seemed much simpler in the aughts. Back then (read: 6+ years ago), all we had to do was worry about what MySpace backdrop reflected our personality the most, or what sassy response to give SmarterChild (because, let's face it, he totally had it coming). Now, the world wide web seems a little too vast and social media a little too pressure-inducing. The best way to approach it all, we've learned, is to use it all as it was originally intended: as a platform for self-expression. We spoke to ten of our favorite personalities on Instagram to find out exactly how to utilize the photo sharing app as a hub for personal and professional growth. Click through the gallery to hear what they have to say.
Check out the entire article on Nylon.
Jess Hannah (@jess_hannah) // Jewelry Designer + Blogger // 198K followers
"My followers like when I tell a story—not just what I am doing but also what I am wearing and how I see the world. I show my personality and perspective through my photography style—it's very design-oriented and a tad OCD. Flat lays are always a hit for me: coffee, a magazine, new sunglasses, some rings scattered and maybe a beauty product all in their place. My followers just love things organized neatly."
Cody Simpson (@codysimpson) // Singer // 2.4 million followers
"If you stay active and you're promoting the right things and using [Instagram] to post positive messages, people will want to hear what you have to say."
Eugénie Grey (@feralcreature) // Blogger // 267K followers
"I find what works for me are cool outfits and good eats, all backed by a beautiful landscape or lots of negative space. I try to keep my content quality and consistent, and I never use an Instagram filter, only filters from various other apps (usually VSCO). I keep everything from a personal post to a promotional post very curated and very me."
Taylor LaShae (@taylorlashae) // Actress // 55.4K followers
"Anyone should be able to post what they want. That's what I do and hope it catches on."
Lisa Dengler (@lisadengler) // Blogger // 68.4K followers
"Instagram for me is about telling a story, both in each individual photo, and in your feed as a whole: who are you, what are you interested in, where are you at that current moment—all portrayed in a beautiful way. My readers have grown to love a lot of my landscape shots equally as much as the fashion ones, because as a whole, it works. This is how I show my personality—because I'm a highly visual person that gets inspired easily by my surroundings, and I want to share that with others. Oh, and the occasional silly photo and smiling selfie help, too."
Marcel Floruss (@onedapperstreet) // Blogger // 201K followers
"I think it's important to never forget what people followed me for, which in most cases is fashion. It's all about a balance of fashion and lifestyle, and of moments and more editorial content. Those moments, that's where my personality shines through, too, I think, over the editorial content. In addition to that, captions are where I always feel like I'm most authentic, with smileys and bad jokes. That's the real me—though I aesthetically prefer a serious face, ironically."
Marianna Hewitt (@marianna_hewitt) // TV Host + Blogger // 369K followers
"I prefer to mix things up in my feed, between selfies, travel adventures, food, outfit posts and funny memes. People respond to different things, but the best way to see what photos work the best for you is to check out a site like iconosquare and sort your photos by the most number of likes and comments. This helps, seeing what your followers like best from you, and you can keep posting similar content to keep a high engagement.
Asking a question always helps to create a lot of conversation. If I don't know what I'm going to wear, I'll post a side by side picture and ask for comments, or different hairstyles. And don't forget to tag and mention everything you are wearing, the more information you leave the more likely brands will repost your pictures and you can gain followers by getting reposted to a whole new audience."
Charlotte G. (@thefashionguitar) // Blogger // 114K followers
"Funny enough the images that are #fromwhereIstand or from fashion week show invites next to my breakfast, or on my lap in the taxi, seem to work best. Then, the usual street style images and beautiful smiles work super well."