Peek Inside The $400,000-A-Month Malibu House Beyoncé Reportedly Brought Her Twins Home To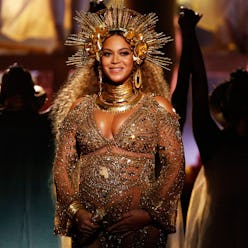 If you haven't been following the Beyoncé Gives Birth to Twins saga as closely as we have been (who are you?), then let us catch you up. In a nutshell: She gave birth to twins last week, Obama may have accidentally revealed the sex of the twins (lol) and now there are reports that the Bey-bies have left the hospital with Bey to move into a stunning Malibu villa. (While this is only the rumor right now—Queen B hasn't spoken publicly about the twins— it doesn't seem like a stretch.)
The rental, called La Villa Contenta, reportedly costs $400,000 a month and has 10 bedrooms and 14 (!) bathrooms. Oh, and a rose garden. And an Hermès fireplace. Seriously, the place is lavish. Just read part of the description (under main villa, because of course there are secondary villas involved) from the realtor's site:
"Elegant stairs lead to the two-story hand-carved limestone entry, which opens into a foyer whose floor is hand-laid pietra-dura mosaic made from antique, reclaimed marbles. On the wall hangs a museum-quality carved mirror by Thomas Chipendale, which reflects a 2,500-year-old lion's head sculpture, found at the base of Mount Vesuvius."
Or this one about the pool pavilion:
"Tiled in Murano glass, the lap pool is equipped with swim jets to create the perfect, indoor swimming environment. But much more apparent is the beauty of the room itself it is so ornate and remarkable that it is hard to imagine that it was built for swimming, rather than pure aesthetic enjoyment. With glass ceilings over 20-feet high, the room is a vision of fantastical marine life, with a hand-painted gesso mural, panels of intricate seashells and mirrored stars, outrageous shell-encrusted chandeliers resembling octopi and a massive golden onyx fireplace."
Same.
If you don't already feel like you're there based on these elaborate descriptions, peep photos of the estate below.
La Villa Contenta