This Is The Real Reason Amy Schumer Won't Be Playing Barbie
Fortunata/Splash News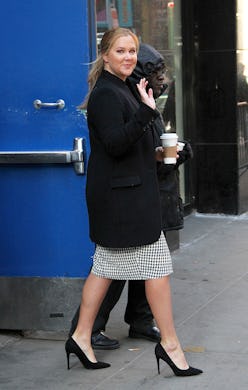 Just a few days ago we were totally bummed to hear the news that our favorite comedienne Amy Schumer was pulling out of Sony's forthcoming live action Barbie flick. We're sure we weren't the only ones who hoped the casting choice meant a frank, funny, and—if her hilarious new Netflix special was any indiction—potentially foul-mouthed spin on the iconic doll. But Amy's not skipping out because of any drama; in fact, she just told Variety that she's just as disappointed as most of us that she's not able to slip into those plastic heels (metaphorically speaking). She let the mag know that it's purely a matter of scheduling conflicts.
What's Amy got going on instead? Last night on Instagram she confirmed the fact that we'll soon get to see her starring alongside Steve Carell and Nicole Kidman in director Rebecca Miller's dramedy She Came to Me. And judging by her caption, she seems pretty psyched on the project.
No word on when the film will hit theaters but the cast is set to start shooting pretty soon. We love seeing Schumer show her range, so we're all about this good news—even if it means we don't get to see her take on our beloved childhood plaything.