Caraway Home & Tan France Just Collaborated On The Most "Soothing" Cookware Collection
Courtesy of Caraway Home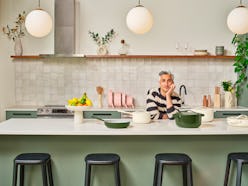 We may receive a portion of sales if you purchase a product through a link in this article.
In addition to the arrival of his second baby, Tan France has even more newness to celebrate this month. Yes, the Queer Eye star recently launched his collaboration with cult-loved cookware brand Caraway Home. The new three-shade Monochrome Collection marries Caraway's innovative non-stick, non-toxic ceramic coating with France's stylish flair, and the results are very chic.
In an emailed interview with TZR, the TV personality said he specifically selected softer, more calming colors — Moss, Crème, and Blush — that were eye-catching but not noisy. "When life is hectic, having a clean, uniform kitchen in soothing tones makes all the difference," says France. Each "modern classic" colorway set includes four essentials — a fry pan, sauce pan, sauté pan, and Dutch oven — and a rack for easy storage. The latter was a must for France, who claims to be partial to a clutter-free household.
It also comes as no surprise that his rapidly growing family (in addition to new baby Isaac, France shares son Ismail with husband Rob) and busy life at home serves as constant inspiration for the Next In Fashion host. He explains that having a clean and "healthy" kitchen has become increasingly important since becoming a father. "But of course, I am not willing to compromise on style," says France. "Caraway combines the best of both worlds effortlessly, so it was a natural fit. I've always felt that fashion and interior design are closely linked, and this collection reflects that."
As for what he'll be cooking up with his fancy new cookware? "I make dal for my family all of the time," says France, who is of Pakistani descent. "It's a recipe I want my kids to learn someday — it's a dish that is simple, nutritious, and an important part of my culture."
If you, too, are ready to make some magic in the kitchen, or at the very least give your cookware collection a much-needed upgrade, shop the limited-edition collection below, as it's sure to sell out.