These Tropical Nail Designs Are The Next Best Thing To A Vacation
All that's missing is a piña colada.
Instagram/@nails_and_soul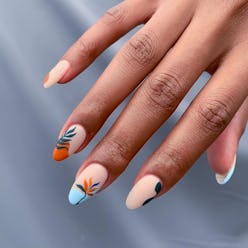 How does summer always come and go so fast? Every year, when August 1 hits, it's likely that so does the realization that you've hardly done anything on your summer bucket list. Beach trips have been few and far between, books have gone unread, and that garden you swore you'd get to this year is still just a sad mound of dirt. Thanks to summer-inspired beauty trends, however, you can still soak up what's left of the season. Nail designs, in particular, are the perfect way to embrace your summer mood — and the tropical nail art trend has arrived just in time.
Flowers and foliage are nothing new when it comes to nail art, but the tropical nail designs emerging as of late are putting a fresh spin on the style. This summer, a slew of nail artists have taken inspiration from a nail look shared by Na Ho (aka @nails_and_soul) in October 2020, a simple-yet-chic tropical manicure using palm leaf designs and her signature swirls. Perhaps the most unique feature of the mani is a bird of paradise flower painted on the client's middle finger, which seems to have sparked the recent tropical nail craze.
The bird of paradise plant is native to South Africa and named for the brightly colored, bird-like flower that grows from it. It may not be the easiest plant to grow and care for, but it certainly makes for incredible inspiration for summer nail art.
Now, tropical nail art is popping up left and right, much of it including a colorful bird of paradise as well as actual birds (like Toucans), green leaf designs, and plenty of bright colors. Some are more abstract while others are more realistic, but they all evoke the late-summer vibes everyone strives for this time of year.
Here, TZR rounded up some of the best nail inspiration on IG to take to your next salon appointment — or, if you're feeling brave, try them out for yourself at home.
Tropical Nail Art Trend: Palm Leaves
This palm leaf design contrasts so nicely with the bright pink base.
Tropical Nail Art Trend: Short & Sweet
Who says short nails can't enjoy nail art? This tropical look is so detailed from the leaves to the hand-painted tucan.
Tropical Nail Art Trend: Tropical Nude
Take your nude manicure to the next level with a dainty tropical design.
Tropical Nail Art Trend: Bright Neons
There's something distinctly '90s (and therefore sweetly nostalgic) about this bold neon design.
Tropical Nail Art Trend: Matte Magic
This matte finish is so chic and pretty, and the colors complement each other perfectly.
Tropical Nail Art Trend: Poolside Palms
It's not necessary to be relaxing by a pool to pull off these tropical nails, but it certainly doesn't hurt.
Tropical Nail Art Trend: Heat Wave
The red base seriously turns up the heat on this tropical mani.
Tropical Nail Art Trend: Birds Of Paradise
Birds of paradise have become a staple of the tropical nail art trend. This pastel design is undeniably summery, fresh, and fun.
Tropical Nail Art Trend: Accent Nails
If you don't want to commit to a full set of tropical designs, opt for nail art on just a few fingers. The result is equal parts chic and playful.
Tropical Nail Art Trend: Artistic Details
These hand-painted birds of paradise are works of art that are sure to get you loads of compliments.
Tropical Nail Art Trend: French Mani-Inspired
This tropical spin on the French manicure trend is so gorgeous and works great for short nails.
This article was originally published on