Topicals' First True Moisturizer Was Made For Even The Most Stubborn Skin Issues
Courtesy of Topicals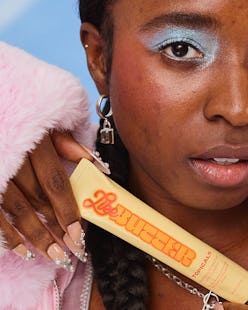 We may receive a portion of sales if you purchase a product through a link in this article.
There's no sacrificing function for form with any Topicals product, but any confusion would be understandable. Visually, Topicals' colorful, cheerful, by-and-for Gen Z aesthetic is so captivating, it makes the formulas almost surprising in their efficacy. The brand's latest launch — a continuation of the cult-favorite mask that helped start it all — might look like an adorable countertop accessory, but it's also one of the most promising new skin care drops in recent memory. The Topicals Like Butter Moisturizer picks up where the brand's Like Butter Mask left off. Designed with sensitive, dry, and eczema-prone skin in mind, it's a rich, enveloping daily moisturizer that cuts through ingredient-list filler with thoughtful, irritation-friendly inclusions. Late last year, Topicals made headlines as Sephora's "fastest growing brand" but 2023 is shaping up to look even bigger.
Topicals' rollout has been intentionally slow and methodical, favoring single-product releases over larger collection drops. Like Butter Moisturizer is the brand's first permanent moisturizer, acting as a consolidation and reformulation of the Like Butter Mask. "As with every Topicals product, we are always optimizing formulas based on new scientific information and customer reviews," Olowe explains in a press release about the new launch. "With a cold winter still in full swing and eczema flare-ups on the rise, we thought now was the perfect time to unveil the new Like Butter Moisturizer."
When Topicals founder Olamide Olowe first formed the brand in 2020, people living with chronic skin conditions were top of mind. That's been a through-line in every subsequent launch, including the new Like Butter Moisturizer. Formulated with a full percent of colloidal oatmeal — not to mention green tea, turmeric, rhubarb, and ginseng — Like Butter's clinical trials showed an improvement in eczema redness and dry patches in the first 2-4 weeks of use alone.
But even if you don't deal with an ongoing skin condition, Like Butter's blend of hydration-boosting botanicals can strengthen that all-important moisture barrier and smooth the look of dryness-exacerbated lines. And fine, it does look extremely cute in one of those "curated clutter" bathroom counter pictures. Olowe herself said it best in the press release: "When I launched Topicals, I wanted to make products that were effective yet cool — something that looked so good, you weren't nervous to pull it out of your bag, but I knew the products had to work." With the Like Butter Moisturizer, it's style and substance.