10 Must-Have Sunscreens To Pick Up From Ulta This Summer
@jackie.m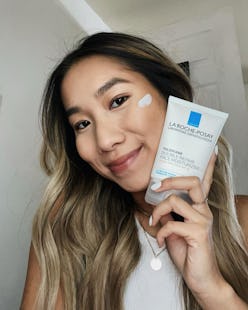 If there's one beauty category that's undergone the most major high-tech upgrades in recent years, it's sunscreen. A far cry from the sticky white paste your parents would slather on you at the neighborhood pool every summer, 2022's top sunscreens are wildly sophisticated — and there's a formula for every face, body, and skin type out there. Ulta Beauty's best sunscreens are particularly good, too. The mega-retailer is home to Gen Z-favorite brands like Vacation, Coola, Kinship, and Everyday Humans along with tried-and-true iterations from Shiseido, Supergoop!, and La Roche-Posay, which means your options are virtually endless.
Read more: 10 Best-Selling Skincare Products At Ulta To Add To Your Online Shopping Cart
Read more: 20 Sunscreens For Mature Skin That Derms Can't Stop Recommending
But just as important as a solid facial sunscreen is a protective, body-friendly version. You might be wondering if there's even a difference between the sunscreen that goes on your face versus your body — the short answer is yes...and no. Confused? Allow Dr. Tiffany J. Libby, MD to explain. "The important backbone ingredients in both facial and body sunscreens remain the same i.e. broad-spectrum coverage with physical or chemical blockers with at least SPF 30," Dr. Libby tells TZR. "Where they differ is usually in their additives. Facial sunscreens may offer a more elegant texture, tinting for extra coverage, or even additional ingredients like niacinamide. They often are formulated to be non-comedogenic as facial pores are more prone to being clogged, which may lead to breakouts."
Scanning the ingredient list is the quickest way to weed out sunscreens that aren't quite right for you and lock in on the ones that are. When it comes to the right ingredients for facial sunscreen, there are a few essentials Dr. Libby says you can't go without. She explains that broad-spectrum UVA/UVB coverage, water resistance, and an SPF of at least 30 are all sunscreen non-negotiables. "I prefer mineral blockers," she adds, "which are your titanium dioxide and zinc oxide, which physically reflect the sun's rays." For body protection, that water resistance becomes especially important, too.
Regardless of if you're searching for that skin-enhancing sunscreen holy grail or after a non-nonsense formula for all-over, you're covered — just scroll through these top-rated picks from Ulta, all backed by scores of glowing reviews.
We at TZR only include products that have been independently selected by our editors. We may receive a portion of sales if you purchase a product through a link in this article.
Best Facial Sunscreens
Best Body Sunscreens
This article was originally published on