10 Nail Art Trends That'll Be Huge In 2019
Betina Goldstein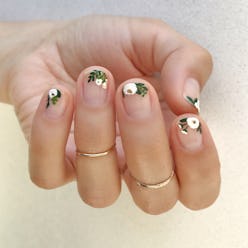 Is the perfect outfit even complete without a great manicure to set it off? After asking around and taking notes from some of the country's most in-demand nail experts, including Los Angeles' very own Betina Goldstein and Rita Pinto of Vanity Projects NYC and Miami, the answer seems obvious: Not at all. And you probably won't feel comfortable leaving home without one of 2019's best nail polish trends gracing your fingertips.
A custom set adorned with the latest trends — whether it's a sprinkle of glitter, intricate line work, negative space nail art, or a few 3D elements — all but promises some serious nail envy, causing anyone who catches a glimpse to hit up their manicurist on speed dial.
In an effort to ban basic manicures forever, The Zoe Report spoke to four popular artists and got the scoop on next year's top nail trends — some of which were already spotted on the most coveted ready-to-wear spring/summer 2019 runways.
Those '90s-inspired gemstones and stacked embellishments that made headlines at Adeam? Check. Same thing goes for the various "clear jelly" press-ons used by Vivienne Westwood, Marta Jakubowski, and Fashion East. And of course, TZR was also told that art and patterns painted on bare nails like those seen at Moschino and Nicole Miller will still be in high demand.
Curious to find out more? Keep scrolling to discover what's hot now before everyone else.
Crescent Moons
"Adding color, embellishments, or art in a crescent shape to your nails is a great way to get creative yet maintain a clean look," editorial and campaign nail artist Betina Goldstein tells The Zoe Report. With every design, a nude base color like Essie's Gel Couture Sheer Silhouettes in Gossamer Garments or Chanel Les Vernis Longwear Nail Colour in Ballerina shade is key, Goldstein says. Once you're prepped, she suggests looking to the middle base of each nail as a starting point for your art, and then working your way up along one side until you reach the top.
Disco Embellishments
Sequins and gems will always be a fan-favorite for their blingy, dramatic appeal, according to Kristin Pulaski, the founder of Paintbucket Nails in Williamsburg, Brooklyn. Taking notes from the '70s disco era, Pulaski says the sparkly look can be created by using two thin layers of gel top coat to sandwich and seal your embellishments — or nail glue topped with regular clear polish. The biggest thing to keep in mind, though, is making sure that if you use a base polish, it has to be completely dry before adding anything — unless you want smudges, she warns.
Jelly Nails 2.0
Jelly nails, AKA the candy-like translucent trend we saw take summer 2018, by storm will still be in high demand next year, says Rita Pinto, the founder of Vanity Projects. But as fall transitions into winter, she expects requests for darker hues like denim blue and crimson red to take over.
A Negative Space Update
"Negative space as a nail trend is very popular and timeless," Amy Wong, the creative director at Paintbucket, tells TZR. For anyone who wants to try their hand at it, Wong says she especially likes when the main design is near the cuticle or at the very tip of the nail while the rest is left blank. "To recreate at home, you can use striping tape to block out the parts you want as negative space. Or, if you're feeling more creative, you can use a striper [paint] brush to create a look," Wong explains.
Sculptural Accents
"This nail art trend is for those who love texture and dimension on their nails," Goldstein says. It requires PolyGel, which is basically a cross between acrylic and hard gel cured by UV light, not to mention a super steady hand to sculpt your design, she notes. Her only rule? "Get creative as you want, and remember it's all [about] the details."
Groundbreaking Florals
"Florals effortlessly elevate your mani in a delicate, elegant way and are the perfect accessory for a classy event," Pulaski says. Goldstein also predicts the trend will be huge in 2019, offering a suggestion to really make your arrangements pop: "I like to start by creating the shape of the flower with a medium-toned polish and working in the details of the petals with lighter and darker tones," she notes.
Shape Shifters
According to Pinto, geometric designs are expected to stay atop the trend list, with chevron patterns as well as complex, multi-shaped looks in nude, monochrome, and gradations leading the way. "The Japanese have been really into this one design on one hand and a different one on another," she adds.
Heavy Metals
Metallics bring a luxe, glamorous feel to just about everything — especially nail art. If you're not in the mood for gold or silver-toned polish, but still crave a little something extra, tiny finger rings are a trendy alternative. "Think of it as removable nail art," Goldstein says. "Pair them with your favorite jewelry or on their own — there's no wrong way of wearing them."
Animal Instinct
"I'm really loving that animal prints are making a comeback," Pulaski notes. "It really adds a wow factor to any outfit." On nails, she says you'll need at least two different nude-toned polishes (one for your base, one for your spots) and a thin, long nail art brush. "Start by making small, scattered [nude] dots — they don't have to be perfect at all. Then, outline the dots with black polish. Let dry for one minute, and afterwards, apply your favorite top coat."
Wild, Wild West
An infatuation with the wild, wild West has been carried over into the world of nail art, Pulaski reports. "I've always been a fan of fringe, cowgirl boots, aztec prints, and anything Bohemian, so I thought it would be super fun to create a nail art collection that celebrates this." Inspired by a poncho pattern she fell in love with, the specific look above also plays up the negative space trend for a ultra-modern feel.