If You've Been Too Scared To Try Retinol, This One's For You
Laneige's Retinol Firming Cream Treatment combines pure retinol with hydrating hyaluronic acid.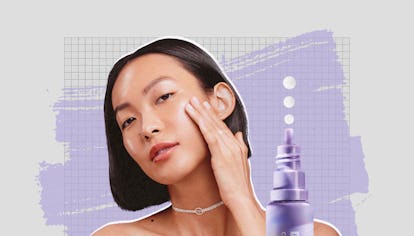 The magical line-smoothing, glow-boosting properties of retinol are no secret. Neither are its common irritating side effects like peeling, redness, and dryness. Considering the benefits of using a retinol are too good to pass up, derms often recommend buffering retinol with a moisturizing lotion as a workaround. The great news is you can now streamline those steps in an all new, first-of-its-kind solution: Laneige's new Retinol Firming Cream Treatment. It combines gold standard pure retinol with varying levels of deeply hydrating hyaluronic acid and antioxidants to offset dryness and irritation and deliver radically smooth, radiant results for even the retinol newbies.
The partnership of pure retinol and hyaluronic acid — two standout ingredients in the skincare world — into one product makes sense for Laneige. If you're not familiar, Laneige is a skincare brand that specializes in hydration. Behind all of their products are decades of research on the skin's moisture mechanisms, and they've harnessed their findings into top of the line, best-selling products, such as their famed Lip Sleeping Mask. Being that flaking, inflamed skin is a top reason for not trying or continuing a retinol product, Laneige infused pure retinol with replenishing, moisturizing ingredients for a less-irritating formula that delivers visible improvement for line, tone, and texture in the most gentle way possible. Because we never want to gatekeep when it comes to transformative skincare, read on for three more reasons why Laneige Retinol Firming Cream Treatment may be the best retinol product for everyone, regardless of skin type or where you are in your retinol journey.
It's a Do-All For More Youthful Skin
If you're not completely up to speed on the wonders of retinol, let us fill you in. Retinol helps with cell turnover, whisking away old, dull skin cells to reveal a fresh, youthful complexion. However, what it's most known for (and why it's the hero ingredient in the Retinol Firming Cream Treatment) is its incredible ability to visibly soften lines and wrinkles, prevent new ones, and plump up skin. Other ingredients in the cream, like French peptides, also aid in firming and preserving elasticity for a taut complexion. In a clinical study conducted by the brand, after four weeks of use, 100% of people surveyed agreed the look of fine lines on the entire face had been reduced and that skin looked firmer.*
It's Specially Formulated To Be Moisturizing and Less Irritating
There's hyaluronic acid, which grabs moisture from the environment and seals it into skin, and then there's Laneige's 5D Hyaluronic Acid Complex in Retinol Firming Cream Treatment. This complex contains five kinds of hyaluronic acid at various molecular sizes to deeply nourish your skin, helping your complexion retain hydration better. This enhanced hydration is exactly what offsets the angry effects of retinol, along with madecassoside, a soothing antioxidant that coddles and calms. In the same brand survey, 100% of people agreed the product feels mild as it seeps in and that their skin felt more hydrated after just one week of consistent use.*
It Stays Potent For Longer
Even though retinol is supremely potent, it loses efficacy quickly thanks to exposure to elements like oxygen and sunlight. Thoughtful packaging helps preserve it, which is why Retinol Firming Cream Treatment is housed in a protective 3-Step oxygen barrier packaging to maximize the stability of the formula, keeping it effective until the very last drop.
If you've been too scared to try retinol, let this be your sign that beautiful, noticeably effective results can be achieved gently with the new Laneige Retinol Firming Cream Treatment.
*Based on the self-assessment portion of a 4-week clinical study on 32 women ages 27 to 49.