StriVectin's New Plumping Serum Gave Me Silky Jello Skin
A welcome peptide boost for the new year.
Hannah Baxter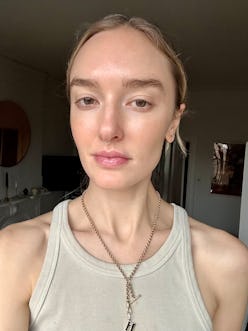 We may receive a portion of sales if you purchase a product through a link in this article.
In our series Trial Run, TZR editors and writers put the buzziest new beauty products to the test and share their honest reviews. This week, beauty writer Hannah Baxter is testing the StriVectin Anti-Wrinkle Peptide Plump Line Filling Bounce Serum.
As a 33-year-old woman who works in the beauty industry, I'm well aware that I'm the target customer for the "anti-aging" category of products. Whether it's lifting, firming, smoothing, or generally enhancing some youthful feature, these types of formulas have officially taken over the skin care aisle at your local beauty store. But I also know that any product with the receipts to back up its claims — meaning the brand conducts clinical trials — is enough to pique my interest and earn at least a temporary spot on my bathroom shelf.
So when I first got my hands on the StriVectin Anti-Wrinkle Peptide Plump Line Filling Bounce Serum I'll admit that I was intrigued. After getting past the mouthful of the product name, I chatted with members of the StriVectin team to learn more about the new launch's impressive clinical results and exactly how it could benefit my skin, which is under siege currently due to New York's blustery, cold weather and my bone-dry apartment (courtesy of an overzealous radiator).
I gave the formula a whirl for four weeks to see if it could, in fact, plump my skin, fill my fine lines, and add a bit of bounce to my complexion. Keep reading to discover my results.
Fast Facts:
Price: $89
Size: 1oz
Clean/Cruelty-Free: Doesn't claim to be "clean"; Cruelty-free
Best for: Improving complexion smoothness and boosting plumpness
Ingredients: Glycerin, Hyaluronic Acid, Peptides, Red Algae Extract, Turmeric Root Extract, Vitamin B3
What we like: Skin appears juicier and free of irritation
What we don't like: The pump top can potentially leak during travel
Rating: 5/5
How TZR Keeps Score: 1/5: Making a return; 2/5: Keeping as a backup; 3/5: Finishing to the last drop; 4/5: Recommending to my group texts; 5/5: Already on auto-replenish
My Typical Skin Care Routine
I truly enjoy taking care of my skin, and given my line of work, I'm never short on products to test. But in the winter I tend to dry out like a dehydrated iguana, and my complexion overall leans a little blah and lackluster, so I love using anything with hydrating humectants and emollients. And since I'm firmly in my 30s, I prioritize formulas that utilize proven ingredients that help boost my skin's collagen levels, which drop around age 25.
The Formula
The hero ingredient of StriVectin's newest release is a proprietary peptide called Alpha-3. But what is it about peptides that has made them a breakout star of the "anti-aging" industry? As board-certified dermatologist Dr. Dendy Engelman explains, "Peptides are a short chain of amino acids that essentially act as the building blocks of protein. Adding peptides to your skin care routine can stimulate the production of collagen and can help repair damaged skin cells." She adds that by increasing your collagen output over time, peptides can minimize the appearance of fine lines and wrinkles as well as lead to more hydrated, plumper-looking skin, all of which are typical skin care concerns as you grow older.
However, the team at StriVectin hoped to accomplish more with this new peptide than just boosting collagen production. "As hyaluronic acid, collagen, and elastin decrease over time, skin loses its volume, shape, and resilience, therefore becoming more prone to wrinkles," says Chimene Kelley, director of product development at StriVectin. "We set out to design a peptide using AI which targets all three of these key building blocks in skin. Alpha-3 Peptide™ was exclusively created using 'in-silico design' — meaning it is computer generated — and targeted to deliver visible wrinkle-smoothing results."
Kelley adds that the brand conducted an eight-week clinical trial for the serum, which reported that participants saw a 96% improvement in the look of skin plumpness and smoothness, and a 93% improvement in the look of forehead frown lines.
My skin after using StriVectin's serum for four weeksHannah Baxter
My Experience & Results
This was the ideal time to add this serum to my usual skin care routine, not only because December in NYC is decidedly gross weather-wise but it's also when holiday parties (and their accompanying salty food and copious booze) take over my calendar, so my skin could use a little boost of anti-inflammatory and hydrating products.
I used two pumps of the StriVectin serum every morning for four weeks, after cleansing with a creamy face wash and patting on an essence, covering every nook and cranny of my face and neck. I also added the excess to the back of my hands (seriously, your hands deserve some love, too). Then I followed up with a vitamin C serum, moisturizer, and mineral SPF and went about my day.
The first thing I noticed about the formula is that it left my skin with an immediate bounciness and a subtle blurring effect. It also just felt so soft. I've tested a lot of serums in my life and it's rare that something leaves you with a noticeable difference right away. My cheeks appeared plump, my fine lines looked hazier, and any trace of post-martini dullness was replaced with a luminous glow. Granted, topping any serum with my favorite moisturizer and sunscreen generally ensures that my skin is suitably dewy, but the effect seemed to last throughout the day rather than fading as my products dried down.
Since the serum utilizes plenty of hyaluronic acid in the formula, I was happy to see that the dry patches that tend to pop up around my nose and mouth this time of year were nowhere to be found. "Hyaluronic acid pairs perfectly with peptides to revitalize dry skin and enhance moisture retention within the skin barrier," says Dr. Engelman, which might explain why my skin remained pleasingly moisturized despite the fluctuating winter temperatures.
I've also seen zero irritation or reaction from incorporating StriVectin's formula into my routine, which is always a risk with trying a new product. Rather, my complexion looks healthy and radiant, even if I indulge in a meal or drink that had the potential to sap any glow the next morning. It's hard to say whether my collagen levels are indeed 96% higher as the brand claims they would be, but I do plan on using every last drop in the bottle before ordering a replacement.
Is It Worth The Price Tag?
At $89, the StriVectin Anti-Wrinkle Peptide Plump Line Filling Bounce Serum is fairly average price-wise compared to similar options on the market. Can you find something cheaper that is also packed with collagen-boosting peptides? Yes. Will it have clinical trials to back up the claims? Potentially, but given the brand's track record and dedication to clinical testing, it feels like you're getting a lot of bang for your buck with this formula. If you're looking for a serum that blurs fine lines, I'd say to keep your expectations in check as with any topical option (or make that Botox appointment already), but I think you'll likely be pleasantly surprised with the results you get from this formula.