'Statement Lips' Doesn't Even Begin To Cover The Over-The-Top Makeup At Paris Fashion Week
The antithesis of quiet luxury — in the best way.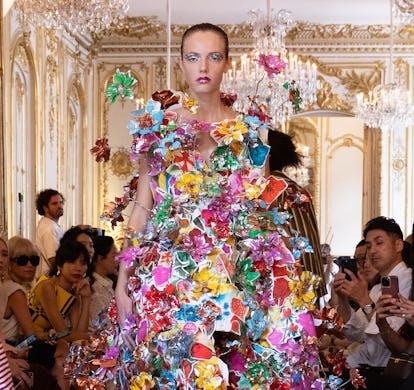 Quintessential French-girl beauty is as prescriptive as it gets, but it often boils down to just one signature element: a bold, alluring lipstick. Conventional wisdom might point right to a traditional blood-red shade, but the statement lips at Paris Fashion Week Spring/Summer 2024 runways are flipping the concept on its head. The playful, expressive twist on bold lip looks have been spotted at a few different shows already, each distinct style both representative of the larger clothing collections as well as the intention behind it all.
Practically tailor-made for the party circuit, the from-the-runway lip looks unique enough to grab attention, but easily adjustable to suit any aesthetic or personal style. At Saint Laurent, the bright red lipsticks spotted on half the models might sounds totally in line with every Parisienne stereotype in the book, but in actuality translate into a retro-style homage to history's most decisive women. Glittering confetti is the happy-go-lucky way to do the metallic lip trend over at the Marni show, while Dior took the diametric opposite approach with eerily enchanting "witch lips" in the season's deepest shades.
Ahead, get familiar with the revitalized statement lip trend's best looks, all ready to be worn right now — with this many ideas to work with, there's no need to wait for spring.
Marni
Overtly festive and so colorful, the glitter-covered and gold-foiled lip looks at the Marni runway show perpetuate the metallic-trimmed floral motifs seen in many of the gowns. Light-reflecting shards in violet, pink, and gold were packed onto the lips by makeup lead Yadim Carranza, driving home a collection theme: collaged fragments. Carranza and his team ensured underlying lipstick color was a near-perfect match to the shimmery confetti layered over top, but allowed a bit of tonal contrast that just made that glitter shine all the brighter, illuminated by the staggered chandeliers strung up inside the venue.
Saint Laurent
Francois Durand/Getty Images
Victor VIRGILE/Gamma-Rapho/Getty Images
There's a reason red lipstick's been popular since the actual Mesopotamian period — is there any color so arresting, so immediately captivating? Much of designer Anthony Vaccarello's vision for this summertime collection revolved around inspirational women like Amelia Earhart and Adrienne Bolland, according to the show notes, who broke through the gendered boundaries in their male-dominated field without compromising their own identities. That translated directly onto the runway with red lipstick acting as a traditionally feminine foil to Vaccarello's reimagining of classic men's garments.
Dior
Victor VIRGILE/Gamma-Rapho/Getty Images
Victor VIRGILE/Gamma-Rapho/Getty Images
The "witchy lips" over at Dior are a far cry from the heavy black kryolan lipsticks of Halloween, or even the deep, moody lacquers preferred by the more glamorous goths. Instead, Dior makeup creative and image director Peter Philips used a black eyeliner pencil to create something far scarier. "This look is a take on what she [creative director Maria Grazia Chiuri] wanted to say [with this collection] about women being seen as witches in a male-dominated world for many generations," he explained backstage, adding, "there's a gothic element to the story." By lightly running the nib over the inside of the model's balm-slicked lips, then diffusing it all with a q-tip and nude-toned lipsticks, Philips made it look like some dark, inner entity was barely being contained. It'd be right at home in a slow-burn kind of horror movie that stays with you for years.
Classic, fantastically chaotic, or sultrily haunting, the lip looks at Paris Fashion Week are more than just statements — they're declarations.