These Three Products Completely Changed This Editor's Skin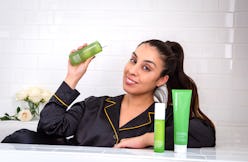 I was invited by skincare legend Ole Henriksen to join him for a week of wellness in Santa Barbara, California in an effort to improve my skin. I've struggled with oily skin since hitting my 20s, and it makes me so self-conscious, so I'm willing to do anything to help treat my greasy T-zone. What I learned in my short time with him at Glow Camp (and during my subsequent six-week challenge) changed my skin more than I ever thought possible. Here's my story.
I arrive at Glow Camp and am immediately introduced to Ole and his all-new line of oil-controlling products that includes a hydrator, cleanser and toner. Ole, his balancing line and I all become fast friends when he walks me through some brief lifestyle tips for updating the ways I eat, live, exercise and treat my skin. He recommends three products to me in particular.
Find Your Balance™ Oil Control Cleanser: The smell of eucalyptus calms me, while ingredients in the Green Fusion Complex™—a proprietary blend of potent active botanicals including green tea, eucalyptus, algae and Irish moss extracts, with natural antiseptic properties—and neem seed oil helps deep-clean my pores and banish oils without drying my skin.
Balancing Force™ Oil Control Toner: Also packed with the Green Fusion Complex™, neem seed oil as well as glycolic and lactic acids, the toner minimizes the appearance of pores, exfoliates my skin and banishes oils without leaving my face feeling dry or tight. Ole also taught me a nice little trick to press the toner into the skin, instead of just wiping it across my face, for added results.
Counter Balance™ Oil Control Hydrator: This neem seed oil-infused moisturizer, which is also loaded with the Green Fusion Complex™, glycolic and lactic acids as well as rosehip fruit extract to fight excess oil production, gives your skin all the good stuff without making you look greasy. For us oily-skinned girls, it's no easy feat to find a product that keeps us hydrated and keeps oils at bay. I'm obsessed with how it reduces oil, shrinks the look of pores and hydrates skin while keeping it completely matte.