How To Get Supermodel Skin This Fall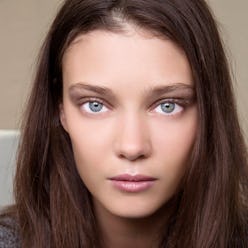 It's time you faced the truth: Summer is coming to an end. We know, we're not happy about it either. And just as the seasons change, so will your skin and so should your skincare. To help ease you into cooler months, we're showing you the best ways to update your beauty routine gradually, so you can avoid the dreaded transitional skin freak-out. Here, see the tweaks you should be making to your skincare stash now, and later when the leaves begin to fall. Follow along for a complexion even a supermodel would envy.
Summer-To-Fall Skincare
For Moisturized Skin
Now: We love lighter-weight gel moisturizers on hot days, but as summer winds down, your skin is bound to need more. Add a few drops of hydrating oil to your go-to gel until you run out of it.
Later: Swap your light moisturizer for a heavier face cream. This will ensure soft, hydrated skin no matter how chilly it gets this fall.
For A Soft Pout
Now: Moisturize your lips with a hydrating balm to keep them from drying out in the sun or at the beach.
Later: When the temperature drops and lip balm isn't enough, a sheet mask for your lips will hydrate and moisturize.
For Hydrated Skin
Now: Hydrating face mists are perfect for warm days. They cool down your complexion while providing a shot of moisture throughout the day.
Later: Before applying your face cream, use a hyaluronic-acid serum. It penetrates deep to hydrate and keep your skin from drying when the chill sets in.
For Glowing Skin
Now: A daily face scrub is perfect for sloughing off dry summer skin to reveal a brighter complexion.
Later: When a mild scrub will no longer cut it, opt for a light at-home peel.
For (Faux) Sun-Kissed Skin
Now: A self-tanning dry oil is the perfect product for maintaining your summer glow while keeping your skin moisturized.
Later: If you refuse to lose your glow this fall, swap your self-tanner for a gradual-tan moisturizer. You'll still have a bronze tint, but you won't look out of place.