5 Post-Workout Mistakes That Are Ruining Your Skin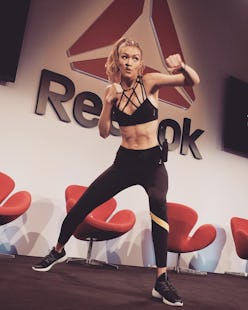 Releasing your tight grip on that box of Oreos and dragging yourself off the couch to exercise is hard enough. But also worrying about the state of your skin during your sweat session? No, thank you. If you want to keep your complexion in line, here's exactly what not to do—so you can work out without the proverbial brow sweat, just the real kind.
Steer Clear Of These Skincare Mistakes
Touching Your Face
It may be tempting to wipe your brow after you've been grinding it out in a SoulCycle class, but take note. Your (grubby) hands can introduce bacteria, dirt and grime into your pores, which open while you work out, and this can lead to breakouts. Instead, have a clean face towel in your gym bag at all times. This one is especially gentle on raw skin.
Staying In Your Gym Clothes
Brunch with girlfriends after a Sunday workout may be a ritual, but it's imperative that you strip off your sweaty clothes, hop in the shower and rinse off before digging into that amazing menu. "Your workout clothes—even if they're stretchy—occlude the hair follicles and sweat glands, which can lead to irritation and breakouts," says Elizabeth Tanzi, MD, a dermatologist in Washington, DC. There's even research backing this up. If you can't get into a new outfit on the fly, carry around full-size face and body wipes to remove as much grime from the surface as possible.
Using A Harsh Face Wash
Stay away from anything that can overly dry your already inflamed, red skin by avoiding washes with surfactants like sodium laurel sulfate. Adds Dr. Tanzi: "Use a cleanser that promotes exfoliation. Cleanse your chest and back with a 2% salicylic-acid gel or scrub to exfoliate and remove oils and sweat to reduce breakouts." This one has salicylic acid to blast zits plus soothing, cooling menthol and lavender extracts.
Forgetting A Face Mist
While traditional alcohol-based toners and astringents are far too drying to be used after working out, a soothing, hydrating mist is the perfect skin reviver. Look for one with redness-reducing ingredients like rose water, calendula extract or aloe.
Using Intense Skincare Products
Save the retinol treatment or that 10% vitamin-C mask for another time—skin that's fresh from a workout is far too sensitive to handle ingredients that are photosensitive, meaning they make your skin more likely to burn in the sun. Instead, go for something hydrating, like a hyaluronic-acid serum to flood cells with non-comedogenic moisture. Or try one of the new fitness-inspired beauty kits from brands like Clinique, Yuni Beauty and Fre, all of which include skincare and makeup made specifically for sweaty, post-workout skin.