Korean Beauty Experts On The Skincare Mistakes You're Making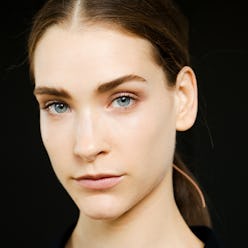 If glowing skin is at the top of your list, there are a few tricks you should know. Who better to steal good skincare habits from than CEOs and cofounders of Korean beauty destination Glow Recipe? Here, Christine Chang and Sarah Lee show us 4 genius tricks for maximizing your skincare routine STAT. With these few simple updates to your current beauty regime, your skin is sure to look better than ever. Teaser: we just rethought our entire beauty routine.
Are you guilty?
After Cleansing Your Face...
"A gentle patting action is a hallmark of the Korean skincare routine and it starts immediately after the cleansing process. Instead of using a towel to dry the face—which can be rough on skin—use your fingertips to gently pat the skin until face it's slightly damp. It's believed to keep skin glowing as this helps with circulation. My mother hasn't used a towel in years!" –Christine Chang
When Applying Serum...
"Many of the serum & essences used in Korea are formulated in a lightweight, watery consistency to easily glide over skin. The serum step is often used to do a quick facial massage. Using the fingertips, sweep product over the face and neck in an upwards motion (never pulling downwards) to help keep it supple and firm." –Sarah Lee
After Applying Moisturizer...
"Immediately after applying moisturizer, rub your hands together to warm them up, then gently press palms onto your forehead, cheeks, chin and neck. The warmth of your palms will help your skin absorb the cream." –Christine Chang
When Applying Eye Cream...
"When applying eye cream this is a great opportunity to give yourself a mini acupressure massage. Using your ring finger, gently yet firmly press on the pressure points on the orbital bone around the eyes. This will not only help to absorb the eye cream but also to keep eyes from getting puffy or getting dark circles." –Sarah Lee