I Got A Red-Carpet Facial Inside A Sterilized Bubble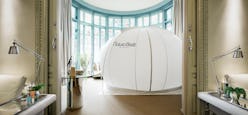 I get facials all the time. I'd say I average one professional facial per month, and when I'm not sticking to an appointment, I do my own at home. I don't have any major skin concerns—just the occasional breakout, oily skin and large pores—and almost every in-spa facial involves a steam, a deep cleaning and, on occasion, a few extractions. You know, the usual. Needless to say, it takes something really special to get me talking about a facial. The last one I got was by far the most interesting face treatment I've ever received: It involved a germ-free bubble and virtual reality goggles. Deets below.
The bubble maintains 99.95% pure air, free of pollen, pollution, mites, dust and particles.
Skincare brand Natura Bissé invited me to experience their new Pure Air Bubble 4.0 Facial, and naturally I jumped at the opportunity to receive the treatment. They had me at "facial," and I couldn't help but wonder what in the world a pure air bubble was? It sounded claustrophobic.
I arrive at my appointment and am blown away when I see the setup. This thing is huge! It looks about seven feet tall. I remove my shoes, unzip an opening in the tunnel (similar to a tent when you go camping), step in and zip it up. I change into a robe, unzip another opening, step into the bubble and zip it closed. All of the zipping and unzipping is done in an effort to keep germs out of the super-filtered air in the bubble. The bubble maintains 99.95% pure air, free of pollen, pollution, mites, dust and particles. With less than a single percentage of germs inside the bubble, it's so much easier to breathe (especially for those who suffer from allergies) and there's nothing in the air to contaminate my treatment.
Once I get over the initial excitement of seeing the bubble in person, Natura Bissé hits me with another shocker: The aesthetician pulls out a set of virtual reality goggles and plays a video. The guided meditation clip starts off with some breathing exercises, and all I can see is a blue sky with clouds all around me. The aesthetician massages me from my neck down to my feet, and I fall into the deepest state of relaxation in record time. Once the video ends, she takes the goggles off and begins my facial.
The aesthetician assesses my skin and decides to give me the 3D Collagen Shock Facial. It includes three types of collagen to lift and firm my skin as well as protect it from pollution and environmental aggressors after I leave the safe bubble. She gets to work on my face, and I'm so relaxed that I just fall asleep—the only reason I wake up is because I hear myself snore right before the facial ends.
Once I shake off the facial fog, I can immediately feel that my skin is extremely hydrated and smooth. It almost feels as if I've been drenched in a primer—you know that silky feeling you get from a silicone-based product? My skin feels just like that, and it's all thanks to a non-invasive peel and some hydrating skincare staples.
I don't know if it's the combination of intense relaxation, super clean air and amazing products, but something is working—my face has never felt this way before. The entire way home, I keep looking at myself in the rearview mirror because I am so impressed with my glow.
The entire way home, I keep looking at myself in the rearview mirror because I am so impressed with my glow.
After the facial, I find out that it's a celebrity favorite, especially during red-carpet season—and I can totally see why. If you've ever wondered how your favorite starlets always look so amazing at awards shows, chances are they've tried this or another over-the-top facial.
At this point, I ask my aesthetician how our readers can try this facial for themselves. It turns out that the treatment is available all across the country (click here for locations) and is complimentary when you purchase four Natura Bissé products from a select retailer. Let us know in the comments below if you decide to try it—and if you gaze at your skin in the mirror the entire way home.