How To Age Gracefully, Even If You're A Mess RN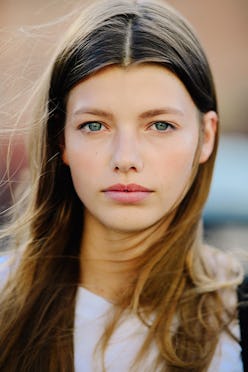 Being a 20-something is complicated. It's a decade of excitement and exploration, but it should also be about laying the foundation for the rest of your life. In addition to charting your romantic and career paths, your 20s is the time to start investing in your skin. Ideally this would involve a religiously followed multi-step preventative regimen. However, the reality is you're young and busy and not (always) sleeping a full eight hours, properly hydrating or even remembering to moisturize. We understand the value of a routine that's smart—and not hard to follow. Below, our top picks for deliciously effortless preventative skincare, because adulting is tough enough as it is.
Be Prepared
Studies have shown that sleeping in your makeup can lead to clogged pores and early aging. Prevent wrinkles (and protect your pillow case) in a single swipe with these Garnier wipes, which harness the power of gentle-but-powerful micellar cleansing water.
We don't need to tell you that at this point in your life, sunscreen is non-negotiable. Make SPF effortless by teaming it up with makeup—like this genius illuminator, which imparts a soft, shimmery highlight as well as a heavy dose of sweat-resistant sun protection.
Another way to never forget your SPF? Incorporate it into your skincare with an eye cream that plumps while it protects, so you look flawless now and later.
Dermarollers stimulate collagen production to prevent and banish fine lines and prep your skin to make the most of your moisturizer. The best part? You only roll once a week, making antiaging a breeze for even the busiest among us.
Wipes aren't just for removing makeup. Glide one of these bad boys over clean skin to instantly exfoliate and moisturize, no rinsing required.
We get it, committing to a nightly serum is hard—so you really want to make yours count. To avoid layering on multiple products, opt for a multi-action powerhouse instead. Oille's green tea- and cranberry-infused concoction heals, lifts and firms skin in a single application.
Pop on these retinol-infused cooling pads during a Netflix binge for foolproof hydration. Bonus: They hide a bevy of sins, leaving you looking dewy and well-rested come morning.
Yep, your hair ages, too. Refresh and repair tired locks while you sleep with this weightless, omega-infused oil.