Beauty Treatments That Can Go Really Wrong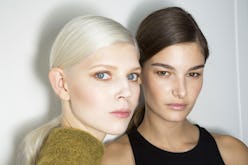 The whole point is to come away looking and feeling amazing, right? But some beauty treatments, much as we love them, require a little more lead time (and room for error) than others. Imagine going in for an appointment—especially in preparation for a big day—and leaving with a major beauty disaster on your hands (or worse, your face). Here, take a closer look at the salon services—from chemical peels to spray tans—that require treading lightly when you really need to put your best face forward.
Homepage Image: ImaxTree
Proceed With Caution
Spray Tan
Why it can go wrong: If you've never had a spray tan, you may not know it can turn out a bit darker than you expect. It usually looks best after 48 hours, so plan around your big day accordingly.
What you can do instead: Try an at-home self-tanner (using an applicator mitt for even coverage) that develops in two to four hours. That way you can control how dark or light you want it to look.
Eyelash Extensions
Why it can go wrong: We love rows of long, full eyelash extensions, but be wary of your skin's reaction to the glue, the lashes or any of the tools used in the process. Book your appointment for three to four days pre-event to give any ill effects time to subside.
What you can do instead: You can achieve a full, natural-looking flutter without having to pop into a salon. If you prefer not to risk it, opt for at-home individual falsies for a similar effect.
Facial Waxing
Why it can go wrong: We understand you want to whisk away your facial hair before a big day, but if you've never waxed your face before, now is not the time to try it. Breakouts and burns can happen—easily.
What you can do instead: Pick up a mini battery-powered shaver. It removes all traces of peach fuzz without the pain or the post-removal recovery.
Bangs
Why it can go wrong: Trust us, we love a good hair transformation, but if you have a looming wedding or graduation—basically, any event you want happy memories of—hold off on getting bangs. They have a way of completely changing your face. You want to recognize yourself in photos 10 years from now.
What you can do instead: As silly as it may sound, try clip-ons. Test-drive the look before actually committing to it.
Chemical Peel
Why it can go wrong: Some professional-grade chemical peels are gentler than others, but think about it—these facials are meant to remove the top layer of your skin. Imagine all the breakouts, redness, swelling and flaking that can occur.
What you can do instead: Get the same glow with a more affordable and less risky at-home treatment—one that's gentle, foolproof and gives you that baby-soft skin you've always wanted.
Perm
Why it can go wrong: Don't try one before a big day. If performed by an inexperienced technician, the process can burn your hair to the point of breakage. Plus, if you're accustomed to straight hair, you'll need time to adjust to your new look and learn how to style it.
What you can do instead: You can still have fuller, luscious-looking hair on your special day. Apply a thickening mousse from roots to tips and blow-dry with a diffuser to create voluminous curls.
Brow Tinting
Why it can go wrong: By all means, get your brows tinted. Just don't do it on a day when you have big plans. Tinting starts out dark and fades to a more natural color after two or three days.
What you can do instead: If you've completely run out of pre-planning time, get a good tinted brow gel. End of story.