Pat McGrath Mascara Is Officially A Thing — Here's Exactly When It Hits Shelves
Frazer Harrison/Getty Images Entertainment/Getty Images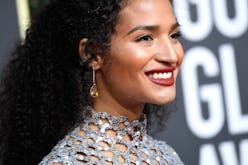 If you watched the Golden Globe awards, you probably spotted the new Pat McGrath FetishEyes mascara without realizing it. According to Pat McGrath's own Instagram, Indya Moore, Amy Adams, Olivia Colman, and Lili Reinhart all wore the not-yet-released mascara — which will become a permanent part of Pat McGrath's beauty line. With so many gorgeous red carpet photos of all four celebrities to swoon over, Pat McGrath proves once again that you don't need over-the-top makeup advertisements when your product is that good. Which, from the looks of it, FetishEyes certainly is.
You'll have to wait until Feb. 14 to try FetishEyes, which will be available for $28 on Pat McGrath Labs' website. But as with any Pat McGrath makeup product, it's worth the wait. The FetishEyes mascara lives up to McGrath's "runway-tested, Mother-approved" slogan; according to a press release from the brand, FetishEyes made its runway debut (and was teased on IG) in Milan for Prada's '60s-inspired SS19 show, and later appeared on the lashes of Versace's models walking the Pre-Fall 2019 show.
If the Golden Globe looks weren't enough to win you over, then Hailey Bieber's simple glam look from Versace's show definitely will. Pat McGrath Labs noted in the press release that the lightweight mascara features a blend of peptides and panthenol (two ingredients skincare and haircare fans will recognize) to condition and strengthen lashes. Basically, FetishEyes is a lash treatment and mascara in one tube.
"Designed to entice the beauty obsessed, this haute hardcore mascara was developed for makeup artists by makeup artists and was relentlessly tested both backstage and on set to ensure lethally luxe lashes of every persuasion," reads a quote from McGrath in the press release.
Mother made sure to take care of you while you wait for the mascara to drop, though. Pat McGrath Labs also announced it's releasing 18 new LUST: Gloss collection shades on its website on Jan. 17. Seven of the upcoming $28 shades are glitter glosses, six are high gloss, and five are shimmers — which includes the iridescent pale pink shade Love Potion, which McGrath used for Versace's Pre-Fall 2019 show with FetishEyes.
"I wanted to complement Donatella's divine homage to powerful modern women with a strong, clean, fresh look that expressed the collection's fierce energy and unapologetic confidence," read a quote by McGrath in the LUST: gloss press release. "With its effortlessly elegant, potent shine, I knew LUST: Gloss would make the perfect statement."
One last note: both products will be available noon ET on their respective launch dates. Set your alarm and turn on your phone reminders if you have to, because Pat McGrath Labs has a penchant for selling out in minutes.