2 DIY Nail Art Trends That'll Be Huge Next Year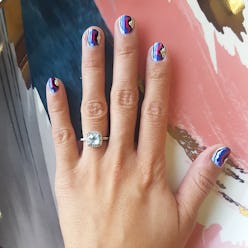 A super easy (and affordable) way to update your look from season to season is with a fresh, of-the-moment manicure. To talk the best colors and nail art trends of 2017, we sat down with Essie celebrity manicurist Michelle Saunders, who taught us two easy-to-DIY looks inspired by the runways. Here, see how to create the looks at home (including a step-by-step photo guide to the graphic manicure below) and shop the shades we'll be wearing all next year.
Read more: How To Style An Oversized Blazer According To 10 Influencers
Shop The Video
5 Steps To The Perfect Graphic Mani
On the right side of each nail, create a crescent shape in a light blue lacquer.
Follow the direction of the first shape in a cobalt blue.
Continue with another layer of a fuchsia polish.
Add a thin stripe of a dark blue polish. Don't worry about having a steady hand—wavy lines work here.
Fill in the remainder of the negative space with a white polish.
Add an accent with a gold glitter polish. Done and done.