Moncler's First Perfume Is Here, And It's Expectedly High Tech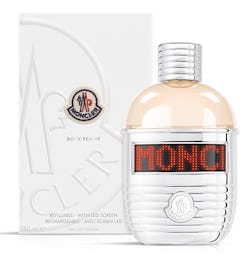 Italian luxury fashion house Moncler is famously innovative. Just last week, the beloved outerwear label made its Milan Fashion Week debut with an immersive digital presentation entitled Mondogenius. A testament to the brand's genius, the show "removed the limitations of the physical realm" to embrace the immersive power of the digital experience, bringing viewers along for a virtual journey to five cities through the vision of 11 renowned designers. Complicated? Yes. Epic? Double yes.
At the heels of the equally unforgettable and technical show, the brand has just officially transcended the fashion space to unveil its first-ever fragrance, available now at Moncler stores nationwide (and exclusively at Bloomingdale's as of October 10). Per the brand, the two perfumes — Moncler Pour Femme and Moncler Pour Homme — "signal a veritable expedition for the senses."
Of course, Moncler perfume has an extra unique component that undoubtedly stands out in the saturated global fragrance market. Both bottles feature a rechargeable LED screen with an illuminated message panel that you can customize via a Bluetooth-powered smartphone app. Pretty epic, right? The fragrances are likely to be a major hit for the holidays, because who wouldn't want perfume featuring a special message from a loved one?
Moncler Femme is best described as a floral-woody musk fragrance. It was born to evoke the freshness of snow while maintaining a warm and comforting scent profile. The result is a mix of white floral top notes teamed with middle woody notes and rounded out with amber, cedarwood, and sandalwood.
The perfume is the work of perfumers Quentin Bisch and Nisrine Grillié, who so eloquently describe the scent as "Fresh powder on a mountain top with the sunlight shining through the snowflakes," Grillié says.
Moncler Pour Homme, on the other hand, is a woody aromatic fragrance brought to life by perfumers Antoine Maisondieu and Christophe Raynaud. It's meant to capture the invigorating scent of an alpine forest.
"Moncler Pour Homme is a deep-dive of woody notes — much more than any classic men's fragrance," Maisondieu explains. "The Mountain Woods accord present in both fragrances is accentuated a lot more in Moncler Pour Homme. For Christophe Raynaud and I, the idea was to play that against the fresh, green element of the Alpine Green accord with aromatic touches of pine resin, sage and cypress."