How To Maximize Your Beauty Sleep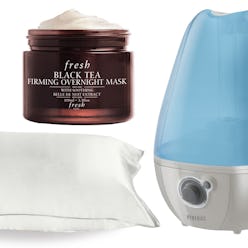 You call it beauty sleep but if you wake up every morning with a parched complexion, rough skin and your hair in shambles, you might be taking the wrong approach.Stop rolling out of bed and into your morning meeting looking less than put together and instead, wake up with your work already done–seriously. Take a few minutes to prep before you go to sleep tonight and you won't feel guilty when you hit the snooze button tomorrow.
I Woke Up Like This
Silk Pillowcase
Don't let another blowout go to waste–silk pillowcases keep hair smooth, help diminish frizz and reduce hair breakage. Also, silk reduces the wrinkle lines on your face and allows night cream to soak into your skin, not your cotton pillowcase.
Overnight Mask
Slather on a thick, creamy face mask and wake up with hydrated, younger-looking skin in the morning.
Hair Rollers
Love the look of bouncy waves but don't have the time to fumble with a curling iron in the morning? Who does. Sponge rollers are comfortable to sleep on and do the work for you.
Humidifier
When the air in your room is dry, turning on a humidifier helps restore the moisture in your skin—especially when the heat is on.
Sleeping Mask
Never underestimate the power of a traditional sleep mask. It looks super cute but also works to block the sun's early rays, giving you uninterrupted Zzz's.