Mango People Makes History As Sephora's First Ayurvedic Makeup Brand — Here's Everything To Know
It's already a viral hit.
Courtesy Of Mango People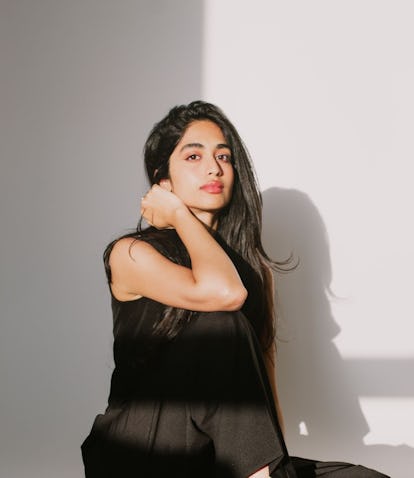 We may receive a portion of sales if you purchase a product through a link in this article.
All Sravya Adusumilli wanted was the perfect nude-pink lipstick — that proverbial your-lips-but-better shade that deposits just the right amount of pigment to maximize your natural assets. While the category sounds like it would feature unlimited options, the products available for South Asian women are often underwhelming at best and essentially nonfunctional at worst. Mango People's Sephora launch, the very first Ayurvedic makeup brand sold by the beauty retail giant, was born from founder Adusumilli's experiences growing up feeling unseen and underserved by the beauty industry. By creating her own products made to glorify skin tones like hers (and everyone else's, too, for that matter), she could empower the next generation of makeup lovers — and introduce a new audience to the wonders of Ayurvedic ingredients.
Mango People's TikTok-viral collection of makeup sticks include multi-use balms for eyes, lips, and cheeks, blend-friendly bronzers, and dewy highlighters, all made with adaptogenic herbs and based on Ayurveda fundamentals. "Mango People's journey began by first me going back to my roots, where our ancestors have always looked to nature for answers," Adusumilli tells TZR. "I researched Ayurvedic principles and its teachings of using powerful plants and herbs to heal the body, mind, and spirit. And, one philosophy that really spoke to me is, 'if you can't eat it, it doesn't belong on the skin.'"
While she adds that the concept isn't supposed to be taken literally, why not be as conscious about that you put on your skin as you put inside your body?
Growing up in a South Asian household, Adusumilli's mother was particularly aware of the potentially toxic ingredients in many mainstream beauty products, forbidding her daughter from wearing makeup for that very reason. When Adusumilli left for college and started experimenting with cosmetics on her own, she found out firsthand what her mother had known all along. "When I was in my second year of engineering, I learned that my favorite lipstick I used every day — and also ate due to my bad lip-biting habit — was made with petroleum byproducts and colors derived from coal tar." She searched for cleaner alternatives, but quickly discovered that so many of the day's companies weren't necessarily being truthful about what was really in their most popular products.
When she did find a brand that actually had a solid ingredient list, Adusumilli was hit with another hurdle: non-inclusive shade ranges, which would often make her skin look washed out or ashen gray. "Mango People was born out of this struggle. I wanted to create a line of products where anyone, no matter the skin tone, can find the perfect shade that accentuates their natural beauty, without compromising on performance, ingredients, or our planet," she says — that elusive nude-pink lipstick included.
Adusumilli describes Mango People's product ingredients as reading like a cooking recipe — they're nearly all easily identifiable herbs and plants, many of which are likely already in your kitchen. The real sticking point here, though, is the brilliant (and proprietary) blend of Ayurvedic adaptogenic herbs, powerful healing plants prized for thousands of years. "As an example, we use ingredients like Ashwagandha, which have incredible soothing properties," she says, adding that it's safe and effective for those with skin issues like acne, eczema, and dryness.
It's likely that you've seen Ayurvedic ingredients featured in popular skin and hair care products, but makeup is still a largely untapped market. "There is still a lot of room for innovation," Adusumilli says, emphasizing that her team's research will only continue and grow. "Ayurveda isn't just a step in your skin care routine or a ginger shot you take in the morning — it's a way of living that guides you to achieve balance and harmony in every aspect of life. It's a holistic system with practices that help maintain a healthy body, mind, and spirit."
Though this new partnership with Sephora is exciting, Mango People's fanbase is already a string and dedicated one. Gen Z in particular has latched onto the brand's clean ingredient list, travel-friendly packaging, and natural finishes. It's right in line with Adusumilli's own beauty philosophy, which favors simple and uncomplicated cosmetic looks.
Of course, in true mogul fashion, Adusumilli already has her sights set on the next chapter — but maintaining Mango People's core principles is still top of mind. "We want to continue to thoughtfully create high-quality, efficacious products, while respectfully sharing our rich history and holistic practices. It is our way of paying homage to our roots while preserving our culture for future generations."
Shop some of Mango People's best-sellers just below.