The Best Nude Lipsticks For Every Skin Tone
Kirstin Sinclair/Getty Images Entertainment/Getty Images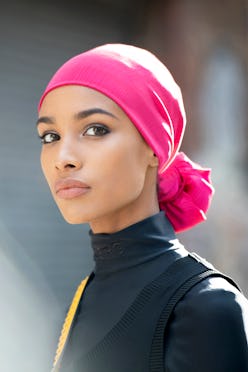 While it's surely the standard in versatility, a nude lipstick is anything but universal. For so long, there was the notion that flesh-toned lipsticks were one-size-fits-all — which is silly. The best nude lipstick for your skin tone depends on your undertone — from the softest pinks to peaches to deep berries — along with your natural lip color. And thankfully, there are plenty of options on the market to suit every shade in the rainbow.
But that doesn't mean that nudes have to be complicated: in fact, Victoria Beckham's premiere line of lip pencils were only limited to six, as the range promises to fit a variety of complexions. However, if you are a little overwhelmed, makeup artist Francelle Daly once gave TZR a helpful hint while color matching backstage at 3.1 Phillip Lim Spring/Summer 2019. "You don't want to match the lips," she tells us of finding shades for lighter skin. "Sometimes, that can end up being more of a pink tone." And for darker skin, you can actually go a touch lighter, for contrast. "When you're darker, you have a monochromatic lip already," she says. "So with the girls [with deep skin tones], we actually went a shade lighter to give that same enhancement to the lips."
Easy enough, right? Ahead, shop some of the most flattering shades if you dare to go bare (-ish).
Best Nude Lipstick For Fair Skin
To highlight the natural flush of your lips, pink-hued options work best. Pale beige or taupe will wash you out.
Best Nude Lipstick For Warm Skin
You already look sun-kissed, and a peachy hue will take your complexion to a whole new level.
Best Nude Lipstick For Medium Skin
A light beige is the right amount of contrast between your complexion and your lips. Sandy tones won't wash you out or look too dark.
Best Nude Lipstick For Olive Skin
A taupe that's slightly darker than your natural lips works perfectly—and don't forget a glossy finish.
Best Nude Lipstick For Bronze Skin
The pink undertones of a good mauve will bring your lips to life.
Best Nude Lipstick For Deep Brown Skin
It's important to not cancel out the color of your lips. Yes, a chocolate berry shade counts as a nude, thanks to the subtle natural flush.