Now Trending: Is Blush The New Eye Shadow?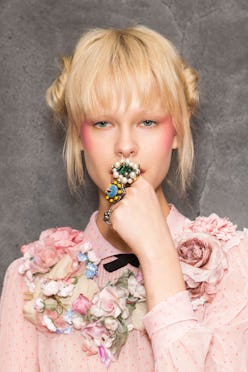 There was once a time when lipstick was the focal point of a woman's makeup look. Think about it, how often do you see vintage photos of starlets wearing anything other than a red lip? But in recent years, beauty junkies have spent more time and effort contouring, highlighting and matching their eye shadow to their outfits, only to then top it off with liner and coat after coat of mascara. While we would never ditch eye makeup for good, there's a new look that has gained our full attention. As seen on Gucci's fall 2016 menswear runway, minimal eyes paired with maximalist cheeks is a surprisingly romantic combo. Is blush the new eye shadow? We think it's worth a shot. The secret is to leave eyes bare, opt for an unexpected shade of blush and sweep it from the cheekbones to the temples—or if you prefer a more natural look, a bronzer looks just as beautiful.
Would you try this look? Let us know in the comments below.
Feeling Cheeky?