We're Spending All Our Money On These Amazing New Launches From Sephora
Alessandro Zeno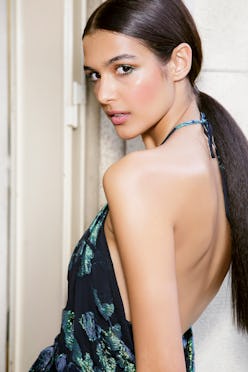 Nothing provides a greater thrill for beauty junkies than walking out of Sephora with a bag full of products. And if you're anything like us, you're known to plan your expenses around your latest purchases. Luckily for you, the beauty mecca is freshly packed with new skincare, hair and makeup items you won't mind spending a pretty penny on. Ahead, the nine products we're buying this month—and a refresher on some of the ones we picked up with our last couple of paychecks.
All New
You've heard of sleeping masks for your entire face, right? This one targets your lips while you sleep so you wake up with the softest pout ever.
Last year, the internet went crazy over the news of the Hangover makeup setting spray by Too Faced (a spin-off of its popular primer). It's finally here.
We don't know how they did it, but somehow Urban Decay managed to squeeze summer into a roller-ball perfume.
No, these aren't eye shadows—they're lip powders. Use one or all of them to transform your favorite lip shade or layer it under a gloss for a cool effect.
It seems like everyone has used NARS Blush in Orgasm at some point or another. This liquid formula is the same shade but sinks into skin for a more believable flush.
Get the perfect ombre lip every time with this two-tone lipstick.
Between the perfect blend of vanilla, musk and jasmine and the baroque-inspired bottle, this fragrance is the luxe addition to your beauty routine you've been missing. And it's actually affordable.
Just like the original cult-favorite concealer, this one completely covers dark circles but also has an added layer of hydrated balm to keep your skin looking healthy.
Wear a single shade or mix them all together to create your dream flush.
This highlighter set not only looks incredible on every skin tone, but its wet/dry formula can also be customized to make you glow twice as bright with just a drop or two of water.
Hydrate your skin and make your hair shine, all while smelling like roses. Win-win.
Sometimes you want to look bronze and sometimes you want to look glowy. Yes, they're different and, yes, this set does both.
This clay-to-foam shampoo removes oils and gives hair tons of volume.
Get your daily dose of vitamin C with this face serum.
Setting your makeup isn't just good for your foundation anymore—it's also good for your skin. This SPF 45 setting powder keeps your makeup and you protected all day.
With this antiaging face serum, you can finally get the look of a tan with a formula that includes ingredients to keep your skin looking younger, longer.
Aerosol application like a hair spray but moisturizing like a hair mask, this spray-on conditioning treatment goes on in the shower and requires no setting-in time.