This Brand's Latest Move Proves That Male Beauty Influencers Are Changing The Game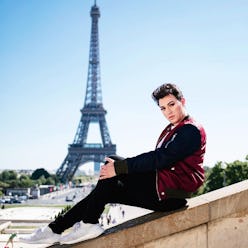 Last October CoverGirl made historic headlines with the appointment of their first-ever Cover Boy, beauty vlogger James Charles. In a similar move, Maybelline revealed its latest campaign for its Colossal Big Shot mascara featuring another male beauty influencer, Manny Gutierrez.
His Instagram boasts a cult following of three million, thanks to his mini tutorials and glamour shots, and his YouTube channel has garnered over two million loyal subscribers. His Instagram bio reads, "I think boys deserve just as much cosmetic recognition"—and he's right.
Beauty boys broke boundaries in recent years by snagging their own collaborations, campaigns and even namesake brands. Manny's wildly popular male counterparts including CoverGirl's James Charles, Patrick Starrr, Angel Merino and Wayne Goss (to name a few) have all been able to get widespread recognition—and they're not slowing down. Now that two of the biggest drugstore beauty brands have taken notice of their influence, it's anticipated that other companies will shortly follow suit.
The beauty world is making strides in highlighting men for their makeup talents in front of the camera, as well as those creating looks behind the scenes for our favorite celebrities. There may still be a long way to go, but this progress hopefully influences other male beauty enthusiasts to show off their own chops.