Insider Tips For Perfect Brows, Every Time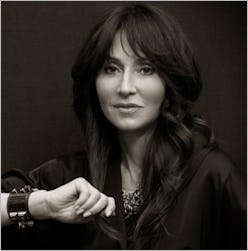 The emphasis placed on having groomed brows has never been greater, thanks to seasons of strongly shaped arches featured on our favorite top models. Lucky for us (and you!) Beverly Hills brow expert Anastasia Soare reveals everything we need to know to perfect the art of the arch.
Inside Anastasia's Beverly Hills salon
Explain your philosophy on brows, and how/why you got into the business.
"Before I arrived in Los Angeles, I lived and worked with my family in Constanta, Romania. My parents were both extremely talented tailors and had a successful shop. I grew up helping my mother create patterns and drape clothing. This is where I first learned about balance and proportion as it related to beauty. At university, I studied math, architecture and art and learned all about the golden ratio and its role in how we perceive beauty. In the early 1990's, I left Romania and arrived in sunny Los Angeles, where I got my first job as an aesthetician in a salon on Melrose.
I became a "Brow Expert" after I started styling eyebrows at a salon in Beverly Hills when I filled in for a friend of mine that had gone on maternity leave. I quickly became one of the most booked ladies in the office. At the time, there was really no such thing as an "eyebrow" appointment as most women usually did an entire facial wax, and eyebrows weren't treated with any sort of real technique. However, as model after model sat in my chair, I noticed a trend. They all had over-tweezed, thin brows. So, I started to draw out fuller, more youthful looking brows on sketches and decided to experiment with the girls that came into the salon. I was AMAZED how much a properly shaped, fuller brow enhanced the features of every woman I worked with. Over time, I made adjustments and started to apply the lessons from art and mathematics like that of the Golden Ratio. That is how I developed my Golden Ratio Technique®, which uses a person's individual bone structure to add balance, proportion, and enhance their beauty."
How do you select the correct brow color shade?
"The ideal brow color depends on your natural hair color, and any chemical coloring you may use. Normally, I recommend that a client's brows be about one shade lighter than the color of the hair to add balance and proportion to the face if the hair is very dark, and one shade darker if the hair is very light."
Get bold, groomed brows with a powder duo, precision pen & tinted gel
Tinted gel vs. powder—how do you decide between the two?
"For clients with fine hair or sparse brows I would choose a pen / marker over a pencil or powder due to its long staying power. Brow pens/markers have a fine point that applies easily to the skin and hair without pulling on the skin. You can layer Brow Pen for a darker shade, or use daily as a base for all brow products.
Brow powders give sheer to medium coverage and are ideal for someone that likes to build a natural or bolder brow look. Brow Powder & Brow Pen are the power couple for bold brows. I use the pen to outline a bolder shape, and once the marker dries I apply brow powder on top and blend for a perfect bold brow. Tinted Brow Gel is the best way to change up your brow shade temporarily or to apply on top of brow powder for a bold brow."
Tame brows with a trimmer, scissors & shaping tools
Tips on how to properly trim brows:
"Trimming brows can be very tricky and is best left to the professionals. However, if you want to trim your brows at home remember that you should use a small, high-quality scissor with a straight blade. Never use a cuticle scissor because the curved blade will not give you an even result. Start by brushing a tiny section of your brow hair up vertically with a spooley brush and trim only the hairs that are longer than the other hairs around it. Cut one millimeter at a time to ensure you do not take off too much. Most people do not need much trimmed from their brows at all."
Serious brow-spiration: Full arches at Vera Wang's Fall 2013 show
You over plucked—now what?
"The first step is to throw out any magnifying mirror that you own! Usually the culprit behind over-tweezed brows is a mirror that makes you focus on one or two tiny hairs instead of the big picture. Take a step back and look to see if your brows look even and full from far away. Up close you will find too many imperfections and you run the risk of tweezing a little here, and a little there until there is nothing left.
During the growth process you will need the right products to help encourage brow growth quickly. Leaving your arch to grow naturally can take up to 6 months or more as the hair grows back in sparse patches. Brow Enhancing Serum Advanced is our peptide-enhanced serum that has been clinically proven to encourage the growth of hair in 100% of trials.
Always remember to fill and define your brows while you are waiting for your natural brows to grow back in."
Perfectly groomed brows were the name of the game backstage at Dolce and Gabbana Fall 2013
What brow trends do you see heading into fall?
"The trend that we continue to see in brows is bold, expertly shaped brows. This look adds drama and sophistication to any face. You can get this look simply and easily by using Perfect Brow Pencil and Tinted Brow Gel. Perfect Brow Pencil easily fills and defines the perfect bold brow. After you have blended the color with the attached spooley brush, simply set your brows with Tinted Brow Gel for a boost of bold color."
Eyes like Marilyn: Miss Monroe's classic arches never go out of style
All-time favorite brow inspirations?
"Marilyn Monroe had a gorgeous, glamorous brow. It embodied the bombshell look. Katherine Hepburn is still requested to this day."