5 Genius Hacks That Make Your Foundation Last All Day
Steve Wood/stevewood.biz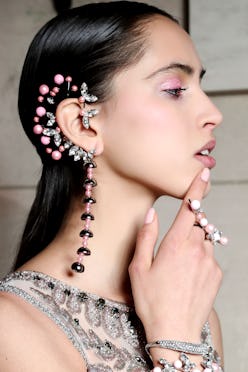 Whether it's because you're way too busy to reapply between meetings, or you just don't feel like toting around your entire makeup stash, midday touch-up sessions aren't always an option. Luckily, these five tricks can help your foundation stay put, so you don't have to worry about taking time out of your hectic schedule to run to the powder room. Finally, a beauty look that works as hard as you do.
Make It Last
Prep Your Skin
You can't have flawless foundation without a perfect base, so be sure to prep before you apply. Makeup won't adhere evenly to dry, flaky skin, so use a light exfoliator to gently slough away dead skin and smooth out your canvas. And, of course, supple, hydrated skin is key, so always apply moisturizer with SPF before reaching for the foundation.
Blot Before You Apply
Some moisturizers can leave an oily film on the surface of your skin, which causes your makeup to slide right off. Give it some time to work its magic, then use blotting sheets to remove excess oil before applying your makeup.
Tag Team Your Primers
Using a primer before you apply foundation helps it stay put, but not all primers are one size fits all. If you have an oily T-zone, use a mattifying primer in this area and a hydrating one on your cheeks if they get dry easily.
Soak Your Makeup Sponge In Setting Spray
If you apply your liquid foundation with a sponge, soaking it in a setting spray will keep your makeup completely bulletproof. To avoid wasting product, soak your sponge in water first, wring it out, then spray it from all sides.
Set With Translucent Powder And Setting Spray
You know you should set your liquid foundation with a translucent powder. But did you know you should also set your setting powder? Seal it with a final mist of a long-lasting setting spray to ensure your makeup stays in place and doesn't look chalky.