Here's How To Look Flawless After Your Workout (And Before Heading to Work)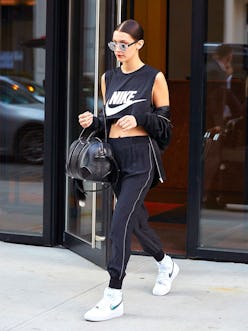 You made it to that early spin class before work (Bravo!), but now you're struggling to recover before your morning meeting. We know the feeling: A flushed face, frizzy hair and the inability to cool down can make even the most avid fitness freak want to hit the snooze button instead. Use these tips to squeeze in an AM workout without having to worry about leaving the gym looking worn-out. Here's how you can do it all and still get to your desk looking flawless.
Gym-To-Work Beauty
Bring On The Dry Shampoo
If you're spritzing on dry shampoo after your workout, it's time to rethink your strategy. Instead, massage it into your roots and tie your hair up before you hit the gym—this will ensure that all of that sweat and oil is absorbed right away.
Skip The Ponytail
Instead of pulling your hair into a ponytail, wrap it into a high bun, and if you have bangs, keep them out of your face with a headband. The less your hair touches your skin, the more sweat-free it will be after your gym session. In the locker room, brush your hair out with a detangling brush to smooth and remove excess dry shampoo.
When In Doubt, Go Sleek
If all else fails, apply a conditioning hair oil, pull hair into a sleek bun and smooth fly-aways with a flexible hairspray. The best part is you'll look chic while also treating dry ends.
Work With Wipes
There's a wipe for everything. Keep a stash of face, body and deodorant wipes in your bag to ensure you smell fresh when you walk in the door (after all, that is just as important).
Load Up On The Cooling Products
Rejuvenate your body with cooling products that eliminate redness and put a stop to the sweating before you leave the gym. A cooling face wash tightens pores and refreshes your complexion, while a moisturizer helps lower your body temperature and energizes skin.
Correct With A Green Primer
If your cheeks stay flushed for hours after you finish working out, apply a green primer before your foundation to neutralize the redness.