The Best Concealers For Every Skin Concern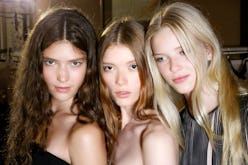 We all have problem areas we wish we could hide—rosacea, acne, all-too-common dark circles. If you've tried and failed to cover them, chances are you're doing it wrong. Let us help you! Different skin concerns demand different concealer formulas and application techniques, so we've created a guide to help you get a flawless complexion every time.
It's OK To Fake It
For Rosacea
Opt for a lightweight but high-coverage concealer to prevent a cakey look. Use a fluffy foundation brush in a circular motion for a flawless, airbrushed effect.
For Broken Capillaries
These tiny lines can happen anywhere on the face but are most common around the nostrils. Use a green concealer to neutralize redness before applying foundation.
For Dark Circles
Try a full-coverage concealer that comes in a tube, adding a few drops on the back of your hand. Use your finger to gently tap concealer under the eyes until it's blended. Continue layering until your dark circles disappear.
For Zits
Breakouts happen, but that doesn't mean anybody has to know about them. Use a high-coverage cream concealer stick to hide blemishes completely. The trick is to use a thin, pointed brush to cover the spot, then use a fluffy eye-shadow brush to diffuse and blend the concealer.
For Burns Or Bruises
Tragic curling-iron mishap? Dropped your iPhone on your face while texting lying down (who, us?)? We got you. Depending on the color of your injury, neutralize with a yellow or orange concealer before applying foundation. If it's purple, use yellow. If it's blue, go with orange.