Why Getting Your Brows Waxed Can Actually Be Empowering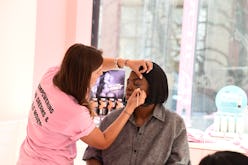 Here at The Zoe Report, we believe in helping women of all ages become the best version of themselves. Whether it's instilling confidence in the way they dress, offering advice on how to land their dream job or inspiring them to create a home they love, we believe little things can change a life. And as it turns out, our friends at Benefit Cosmetics share a similar goal.
As part of its Bold Is Beautiful campaign, Benefit donated 100% of proceeds from its brow-wax services this past May to charities empowering women and girls. Since 2015, Benefit has waxed over 379,000 brows and donated over $6.3M dollars. Now the company has gone global with its mission—17 countries participated this year, giving back to 34 local charity partners. Here, some impressive stats:
· 1 brow wax helps Girls Inc. provide 1 week of hands-on programming for 1 girl · 1 brow wax helps The Princess Project send a teen to prom · 1 brow wax helps Look Good Feel Better provide beauty workshops for women coping with cancer · 2 brow waxes help Step Up fund school supplies for 1 freshman girl for 30 weeks of after-school programming · 3 brow waxes help Girl Develop It support a woman building her first website · 6 brow waxes help Dress for Success suit a woman for her job interview
Last month, we teamed up with Benefit to spend an afternoon with Girls Inc.—an organization that educates and empowers young women—in Los Angeles. Watch here as we get to know the girls and design some inspiring T-shirts that remind them of their incredible gifts and bright futures.