The $15 Red Lipstick Maayan Zilberman Always Gets Compliments On
She keeps extras on hand to gift.
Courtesy of Maayan Zilberman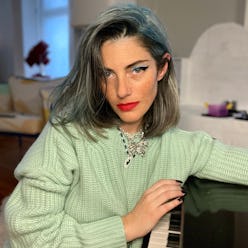 We may receive a portion of sales if you purchase a product through a link in this article.
When someone's selfie makes you scroll back, you want to know the beauty products responsible for the double take. Inquiring minds get answers with TZR's The High/Low series, where we ask our favorite tastemakers to reveal both the splurge-worthy and wildly affordable staples in their routines.
Lindsay Lohan's Miu Miu Summer 2007 campaign, the strong makeup and precise hairstyles of Helmut Newton's photo subjects, Greek singers Maria Callas and Nana Mouskouri, model and artist Conie Vallese, and model Precious Lee: these are among the eclectic inspirations on Maayan Zilberman's beauty mood board. The New York City-based sculptor, confectioner, and founder of Sweet Saba, a candy company for grown-ups, keeps her hair, makeup, and skin care routines clean and classic, but like her artwork and sweets, she isn't afraid of color. A swipe of royal blue eyeshadow adds a mod twist to a sharp cat eye, while a true blue-red matte lip is sophisticated, classic, and arguably a nod to Newton's photographs.
"Have a good time with it," Zilberman says of her approach to beauty. "If it feels labored or tedious, it's not worth it, and no matter how much you do and how many products you try, it won't look like 'you.' She goes on to say that sometimes, the most pared-down and simple routines with a couple of products can give the best results if they take the edge off. "You need to look relaxed to look good," she adds.
Her curated product lineup includes a mix of luxe and affordable finds, all designed to enhance her features rather than cover them up. "As I've gotten older, I've really doubled down on my beauty style, which is free of any cover ups, contouring, or illusion-work," Zilberman tells TZR. "I like to highlight my freckles and uneven skin tone (which is just natural, not a flaw), and I like to brighten up [my eyes] with a bit of shimmer on my lids, [paired with] defined eyebrows and lashes, and a bold lip."
Since going natural with her hair color, she likes to wear her silver strands sleek and smooth, so she "irons it out and uses lots of oils." Now that she loves her color, her next move is embracing her natural voluminous curls again. "I think it's time to embrace the curl again and figure out what I need to do to find that happy place with newly coarse and (mind of its own) silver," she says. "It might just take a minute to figure it out. It's exciting to think I'm going to find a new look at 45."
Ahead, Zilberman shares the holy grail beauty products in her routine. Keep scrolling to discover her favorite splurges and affordable finds.
Maayan's Favorites Over $25
Maayan's Favorites Under $25