Team Zoe Beauty Pick: Alyssa Sutter's Smell-Good Scrub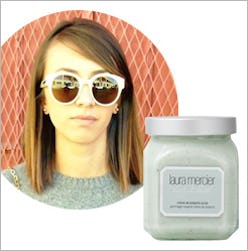 We'll always obsess over the latest, hottest products but sometimes the best beauty finds are the ones your friends, colleagues, and family members get you hooked on by chance. In this new series, the Team Zoe ladies spill on the lotions and potions they can't live without – new or old, super affordable or total splurge.
Team Zoe staffer: Alyssa Sutter, Assistant Stylist, Rachel Zoe Studio
Beauty pick: Laura Mercier Crème de Pistache Body Scrub
How she discovered it: "I was at Nordstrom looking for a gift for my mom's birthday when I stumbled upon this amazing scrub. It looks like a paste or even a pudding and smells good enough to eat, which is one of the main reasons why I wanted to try it. It has the tiniest pieces of pistachio in it to gently scrub your skin leaving it soft and moisturized."
Why she loves it: "I don't know anyone else that uses it but I am totally obsessed! Not only does it make my skin smooth and smell great, it also makes my whole bathroom smell like pistachio! The smell is a little unusual but it is actually quite nice. It's subtle enough for the people who don't like fragrances but strong enough to leave your skin smelling sweet the rest of the day."
How to apply it: "It comes with a small spoon, which makes it easy to use. I usually scoop it onto my loofah but you can apply it with your hands or a washcloth too. "
The deal-sealing quality: "It's super-hydrating but doesn't leave your skin with an oily residue like some of the other products I've used."
Availability: Laura Mercier Crème de Pistache Scrub, $46
What body scrub do you swear by? Share your pick with us via @thezoereport on Twitter.