How To Update Your Beauty Routine For Fall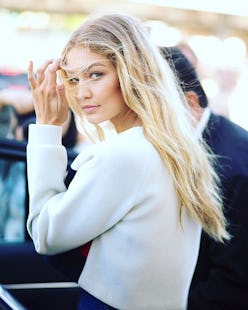 When the seasons change, so does your beauty routine—well, at least it should. When the temperature drops, the loss of moisture in the air can take a toll on your body. Here, shop the products that are sure to keep your skin soft, your hair shiny and your nails strong all season long.
Fall Into Beautiful
Invest In A Humidifier
While we're glad humidity levels are down nowadays (our hair is certainly happier), the dry air can leave skin flaky and dry. Turn on a humidifier to restore the moisture in your skin.
Don't Skip The SPF
You might be spending more time indoors and out of the sun, but SPF should still remain a key part of your beauty routine. Swap your thick sunscreen lotions for a fine mist that sets your makeup and keeps you protected.
Keep Your Nails Hard As, Well, Nails
Your nails are bound to become dry and brittle when the temperature drops. This oxygen nail treatment will keep them strong and healthy-looking all season long.
Apply A Thick Moisturizer
This summer we fell in love with lightweight, gel-like moisturizers but we're sure to need a heavier one to withstand the dry months to come. Choose one with nourishing ingredients like vitamin E, hyaluronic acid and camelia oil.
Feed Your Skin With A Body Serum
We agree that it's important to keep your face in tip-top shape but don't forget to keep your body just as moisturized. This cocktail of coconut, olive and sunflower oils absorbs into skin and leaves it feeling smooth year-round.
Try A Double-Duty Face Wash
Cleansers that contain alcohols control oily skin in the hot summer months but can strip your skin when it's cold out. Instead, use a powder-to-foam formula to slough away dead skin and nourish while cleansing.
Use A Hair Mask
Include a deep repairing hair mask in your weekly beauty routine to keep your mane looking healthy all through the cooler months. You'll thank us.