Everything You Ever Wanted To Know About Self-Tanning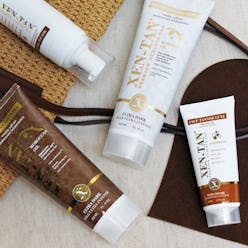 As much as we love a little color on our skin, we know it leads to sun damage, unsightly tan lines and sometimes far worse. This summer, we're taking the do-it-yourself approach and getting our bronzed glow courtesy of XEN-TAN's easy-to-use tanning products. Avoid a splotchy, uneven tan by following our 5 must-know rules. You'll be a tanned goddess in no time (sans the guilt of baking in the sun). Win-win.
Be A Bronzed Beauty
What if I messed up the application?
The biggest mistake women make when trying to correct a bad tan is attempting to scrub it off, which usually just results in uneven blotchiness. Instead, add a few drops of baby oil to a warm bath and soak for 20 minutes to lighten the shade.
The first time you use a self-tanner, experiment with your legs so if you mess up, you can cover it with pants. No one is an expert the first time, but XEN-TAN makes blending quick and easy.
How do you avoid a patchy tan?
Before you begin tanning, lightly exfoliate to remove oils and flaky skin. Do not apply lotion, as this creates a barrier between the product and your body.
A tanning mitt is the key to getting a well-blended and airbrushed-looking tan, especially on the areas that are hard to cover (like knees and ankles). Instead of applying self-tanner directly on your body, drop a small amount onto the mitt and rub into skin.
What is the best type of formula to use?
Thanks to their foamy consistency, mousse formulas are easy to use because they go on easy and dry quickly–perfect for adding some color before you run out the door.
When applying tanner under makeup, use a product that focuses on the face because it contains more antioxidants and less fragrances, which means a smaller chance of breaking out.
Can you even out a bathing-suit tan with self-tanner?
Yes, but rather than only tanning the spots that didn't get color, use the product all over and apply extra on the lighter areas. That way your skin will have an even tone all over.
How do I select a shade?
If you have light skin, use a dark shade of tanner. Deep skin tones look best with light-to-medium shades. Here's why: Medium shades are golden, which give deep skin tones a pretty glow, while dark shades give light skin a punch of color.