How To Keep Your Makeup From Transferring To Your Mask
Check out these expert tips from two of the best in the business.
skaman306/Moment/Getty Images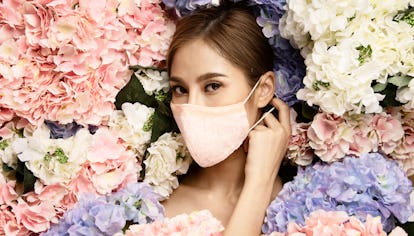 Masks are more than an essential way to protect ourselves and others. At this point, they're practically a part of your look: Created with all sorts of different patterns, fabrics, and styles, masks are now a form of both safety and expression. However, makeup lovers are faced with the dreaded threat of transfer every time the nose and mouth covering is applied and removed, and it seems impossible to avoid. Still, keeping your makeup from transferring to your mask isn't as hard as you think — and it starts before you even put on foundation.
According to the experts, excessive primers, powders, and setting sprays won't protect you from your makeup from moving. In fact, it can actually have the opposite effect on your skin. So if the risk of makeup transfer has left you feeling discouraged, check out these expert tips from two of the best in the business.
We only include products that have been independently selected by The Zoe Report's editorial team. However, we may receive a portion of sales if you purchase a product through a link in this article.
Face Mask Makeup Tips: Wear Long-Wear Complexion Formulas
"If you weren't already using a long-wear foundation, now it the time to invest to avoid product transfer to your mask," Kelsey Deenihan, makeup artist to Lucy Hale and Reese Witherspoon says. And she insists that the best way to ensure that the formula lays smoothly, skin must be moisturized. "Ensure your face is hydrated to combat chafing and to keep product from flaking," she says.
And once you apply foundation, follow up with another long-wear concealer. "I would recommend the Maybelline Superstar Under-Eye Concealer," Vincent Oquendo, celebrity makeup artist and brand ambassador for Shiseido and Lumify says. "Keep away super creamy, luminous concealers because they often don't set easily and are likely to transfer."
Face Mask Makeup Tips: Use A Lightweight Powder
While our first instinct is to pack on the powder, you should actually do the opposite. "Too much powder will mattify your skin and give a chalky effect," Deenihan says. "In the summer, we aspire for a fresh and glowy look." To keep makeup intact without looking like a ghost, both artists suggest using a lightweight powder, working into the skin with a beauty blender or compact brush, rather than letting it sit on the surface. "My personal favorite is the Shiseido Synchro Skin Matte Silk Loose Powder. It never cakes and you can really pack it on to help your makeup wear longer," Oquendo says.
Face Mask Makeup Tips: Don't Overdo It On Your Primer
"Primer is always a good idea to fill fine lines, conceal skin imperfections and keep your makeup intact — with or without a mask," Deenihan says. However, using too much primer will actually have an opposite effect. "I personally don't suggest over-priming your skin, because that creates product buildup. Then it's more likely for your makeup will transfer," Oquendo says. "Instead, consider using one hydrating serum or primer lightly."
Face Mask Makeup Tips: Focus On Your Eyes
With the soft eye and bold lip taking a backseat, now is the time to upgrade those features the mask doesn't hide. "There's potential to create amazingly sculpted brows and browbones," Deenihan says. "Define these features so they stand out. I like using a highlighting palette to further accentuate the brows. Depending on your preference you can apply a subtle layer or really build to get major payoff."
And Oquendo suggests one unexpected product to really add a burst of glimmer to the eye. "One of my favorite tricks to making my clients eyes really pop is using LUMIFY Redness Reliever Eye Drops before makeup," he says. "It lasts up to eight hours and it helps relieve eye redness, so whatever eye makeup you are featuring with your mask will look its best."
Face Mask Makeup Tips: How To Touch Up
"A lot of times we experience creasing around the mouth. Now, the creases are from our masks," Deenihan says. "To fix this without having to carry your makeup kit, I suggest visiting the restroom, washing your hands, and using the warmth of your fingers to smooth anything that's out of place. The heat from your hands will help mobilize your foundation as though it was freshly applied for a quick fix."
If you think you're showing symptoms of coronavirus, which include fever, shortness of breath, and cough, call your doctor before going to get tested. If you're anxious about the virus's spread in your community, visit the CDC for up-to-date information and resources, or seek out mental health support.