Contour Like A Pro In 5 Minutes Flat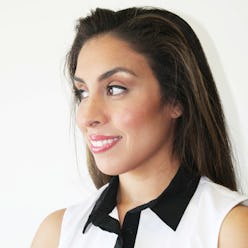 Here to bust the myth that perfectly contoured cheekbones are impossible to recreate without calling upon a fully-equipped team of makeup artists, Team Zoe's own Joey Maalouf shows you how to define, sculpt and shape your cheekbones like a pro (in under 5 minutes!). With a little help from two life-changing products from Laura Mercier–which also happen to support a pretty cool cause–learn how to steal your own red carpet-approved beauty look without ever leaving your house.
Picture Perfect
Laura Mercier's Bonne Mine Healthy Glow for Face & Cheeks Creme Colour Palette and Peach Hope Lip Glace are as versatile as they are beautiful. Best of all, 100% of the proceeds will be donated to the Laura Mercier Ovarian Cancer Fund.
Contour
"After a good foundation base, use the Bronzer Veil which is the darkest one in the palette as the contour. It has a little bit of shimmer in it, which I like because it blends easier. Cream bronzers without a shimmer can come across as harsh."
1. Press the product into the hollows of the cheekbones, making sure that the darkest part is closest to your ear. Fade it out once it gets closer to your mouth; if it gets too close, your cheeks will look too hollow.
2. Dab onto the temples and blend into the hairline; you don't want a gap in between.
3. For a more contoured and symmetrical look, draw a line on either side of the bridge of the nose and a swipe under the chin.
4. This can double as an eyeshadow if you go into the crease of the eyelid.
Highlight
"What's great about a cream highlighter is that you can draw on all the lines and blend them in. Don't be afraid to apply liberally; you want it to be seen and you will end up blending it out anyway."
1. Take the Glow Veil and highlight the bridge of the nose, the high cheekbones and brow bones.
2. Do just a touch on the chin and a little on the cupid's bow to make lips look a little poutier.
Make sure that when you are blending, everything looks seamless. If it's close to the hairline, push it in so you look natural and sun-kissed. This will create nice shadows in your face.
Add Warmth
"For the blush, we mixed both Cheek Veils together for more depth."
1. Put it in a circle and let it emulsify with the warmth of your skin. Blend cream blushes by patting; wiping will actually remove the product. It will end up on your fingers, instead of on your cheeks.
2. Slightly blend the blush into the contour and the highlight; this makes it looks seamless.
3. You can add a little blush stain on the lips too for a little pout.
4. Take the darker pink Cheek Veil and add it to the lids for some warmth.
Apply Gloss
"Although shimmer glosses make lips look poutier, be careful with application; shimmer tends to drip outside of the lip. If you are using a gloss with shimmer, be sure to apply this as the last step of your look to avoid smearing or feathering."
1. Start by applying gloss in the middle of the lip only and dab with your finger to cover the entire lip.
2. For extra staying-power, apply gloss to your entire lip and blot with your finger. Do this a few times in a row and continue to layer. Doing this over and over will build a tacky layer on the lips which will adhere the next coat even better. Your gloss will last forever.
The Final Look
"Contouring is meant to highlight your best features, not change your face. A more dramatic contour is best for nighttime. For daytime wear, take a more subtle approach. Steer clear of darker hues and be sure to take your skintone into consideration when choosing colors. You don't want your makeup look to come off 'costume-like.'"