The World's Most Popular Fragrance Is Exactly What You'd Think
@jilljiujiuliu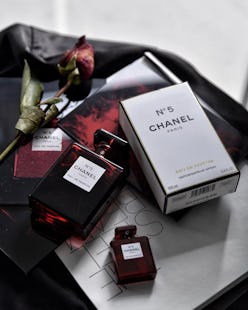 Cult Status is our series that highlights an iconic item from brands both established and buzz-worthy. In these features, you'll discover the fascinating history of how one extra-special piece exceeded expectations and became a forever product. This time, the focus is on Chanel No. 5.
A best-selling beauty product is pretty impressive, especially in a market infiltrated by newness every other second. Then there's that even rarer breed of hall of fame, try-before-you-die, classics — the Ruby Woos, the Flowerbombs, and Crème de La Mers of the world — that editors and beauty fanatics swear by and continue to fly off the shelves despite the plethora of tempting new options that stand alongside them. But when it comes to the greatest of all time, there is no debate. Enter: Chanel No. 5 perfume.
It's been almost 100 years since the launch of Chanel No. 5, and it's firmly held it's spot in the top 5 best sellers ever since (source: Brand Key Fashion Brands Index). A pretty extraordinary feat considering how many new fragrances are introduced every year, yet its simplicity and timeless elegance plants it firmly at the top year after year and continues to set the high standard for luxury perfumes today. (According to NPR, one bottle is sold every 30 seconds.) If you're one of those "I-don't-understand-the-fuss" skeptics, allow me to break it down for you. The short answer is, yes, virtually everything about this scent is special, from the seemingly simple yet meticulously hand-sealed glass bottles, to the exactness of the ingredients and balanced blends that are bottled up inside. "A women's fragrance that smells like women," as the visionary Gabrielle "Coco" Chanel herself described it. It's a lofty claim to bottle up the scent of a woman, but nearly 100 years flying off the shelves and it's hard to argue that this layered floral is anything short of exactly that. Here's a look at the fascinating history and reason this beautifully orchestrated, pretty glass bottle has held the crown for nearly a century.
In true Chanel fashion, the history of the fragrance is as simple, poetic, and beautiful as you might expect. As a woman ahead of her time, acclaimed fashion designer Coco Chanel asked celebrity perfumer Ernest Beaux to create a sparkling, simple, yet seductive scent. "I want to give women an artificial fragrance. I say artificial because it will be fabricated. I want a fragrance that is composed," she declared, according to Chanel. In 1921 he presented her with several numbered samples for testing to which she selected sample number five.
The simplicity of the name, No. 5, was seemingly basic and uninspiring compared to the lyricism of fragrance names at the time, but it was part of its immediate global appeal which led to a long road as the number one best-selling fragrance. The registration-style name was easily remembered and required no translation from country to country. "It was completely original at a time when romantic or sexually provocative names — My Sin. Shalimar — were the prevailing trend. No. 5 was an address, yes," Linda Wells, founder of Allure and Flesh Beauty, tells The Zoe Report. "But it also let the wearer project herself, her own emotions and her mood onto the scent. In that way, Chanel No. 5 was the most modern fragrance."
The minimalistic design looked purposefully more like a laboratory flask or whisky decanter which was easily recognizable alongside the profligate displays. "I love the way Chanel No. 5 invented an entirely new fragrance, bottle and expression. The handsome, restrained, almost masculine bottle was revolutionary at a time when decorative cut crystal was the norm among expensive French fragrances," Wells tells TZR. Even then, the simple glass bottle stood out as a staple of modern beauty and not just as a work of art on your vanity. In 1959, the bottle joined the permanent collection at the Museum of Modern Art in New York City and just a few years later, famed artist Andy Warhol used the bottle as the subject in one of his classic 9 silk-screen works of art.
So why exactly is this fragrance so famous? Chanel No. 5 was the world's first abstract fragrance, which incorporated more than 80 ingredients in a complex, multi-layered formulation process that uses aldehydes to heighten the scents and give an airy nature to the floral notes. The result is a meticulously blended fragrance with notes so precisely combined that they are hard to identify on their own.
Even the individual notes selected for the blend are manipulated in a way that is far from ordinary. The top notes stem from the native Philippines flower, ylang-ylang, whose petals are distilled with steam in order to obtain the purest essential oils to ensure a heady smooth top note. There's notes of Rose Centrifolia (or May Rose), a special flower which only blooms once a year for a period of three weeks in May. It's picked from the only place in the world where it was grown during the 20th century, Grasse on the French Riviera, adding to the rarity and enchanting nature of the note. Then there's jasmine. An ingredient that Gabrielle herself coined the most luxurious natural perfume raw material in the world. The unique note takes on a different tone depending on its environment, making it pull a little differently on everyone woman who wears it, once again adding to the addicting and alluring nature of this iconic scent.
This unique blend of natural and synthetic elements marks a new era that combines the two in harmony. But with a rare blend and hand picked ingredients, preserving and sealing of the elegant formula is critical. Jacques Polge, the exclusive creator of Chanel fragrances, selects an inspects every ingredient that goes into the creation. Each bottle is manually sealed using a century old method known as baudruchage. The artisan hand sealing includes manually applying two rows of black pearl cotton yarn and wax double C seal to ensure absolute air-water-tamper proof quality of each bottle, proving yet again, it's all in the details.
Apart from the obvious excitement surrounding just about anything stamped with mirrored Cs, it was in 1954 that Marilyn Monroe immortalized the perfume when she famously shared what she wore "just a few drops of No. 5" to bed. But truth be told, Chanel No. 5 today smells different from the original and rightfully so. Tastes have evolved along with the landscape and the soil where these ingredients are grown, and with it, Chanel has fine-tuned the scent to fit the times tweaking the variances and paying close attention to the evolution of the florals that are included in every bottle. Even the iconic bottle has had it's face lift, with minor adjustments that kept the design modern and updated. My favorite iteration: the limited-edition provocative red collectors bottles that launched for holiday just last year.
Almost 100 hundred years later, the scent of a women still rings true. "It didn't tell a woman who she was or how she was supposed to feel or behave. It allowed her to identify the scent for herself, on her own terms. It's a lot like a classic Chanel boucle jacket or a quilted bag. The clarity and simplicity of the design, name and scent makes it both universally appealing and open to individual interpretation. And this makes it utterly timeless," Wells explains. Even fragrance experts can stand behind the lofty claims of this distinctive scent. "It makes you feel feminine, sensual, and gives you a feeling of classic elegance," Sue Phillips, fragrance expert and CEO of Scenterprises and the Scentarium, tells The Zoe Report. "When you put on Chanel No. 5, you're wearing heritage and history. You're wearing all the hallmarks of an elegant, feminine, woman." The Chanel No. 5 legacy spans decades, living up to its name as a statement of timeless luxury, a personification of a women's beauty, and thereby firmly cementing that seemingly simple No. 5 as the greatest fragrance of all time. And that's the cold hard proof.