Proof That Your Holiday Hairstyle Deserves A Dose Of Sparkle
Deck the halls in style with these 10 hair accessories.
@jenniferbehr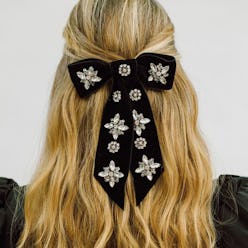 It's beginning to look a lot like Chr-... okay maybe not quite yet, but it's never too soon to start planning out your holiday glam. Though the holidays hold much excitement, from the food, to the decorations, and time spent with family, the most exciting part of it all, arguably, are the outfits — not to mention the holiday hair accessories that act as the cherry on top.
If you're thinking a few weeks ahead about what you'll wear to the numerous holiday parties that you have pending invitations to, don't forget to include a festive hair accessory to complete the look. Most other months in the year don't call for sparkly berets and bedazzled headbands, but November through December is your opportunity to pull out all the stops with preppy glam holiday looks. Even if preppy is not your style, there is a holiday hair accessory to match every aesthetic — opt for a sleek bucket hat instead or even a subtle hair pin that's nearly undetectable, but still adds a bit of shine to your look.
Below, see 10 holiday hair accessories that guarantee you'll be the hottie at every holiday party — or just around the family dinner table.