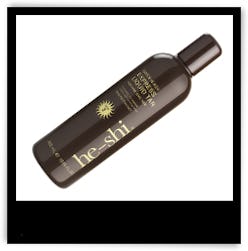 Not unlike the technology of our computers and smart phones, it seems that the innovation of self-tanners moves almost faster than we can keep up—but we're not complaining! The latest pioneering product to hit our bathroom counters, He-Shi's Express Liquid Tan promotes one of the most gorgeous, natural glows we've ever experienced from a bottle while blessing your skin with endless benefits.
So if you're anxious to shed your winter white skin in favor of a lustrous complexion, we highly suggest you give this a go. Free of the dominating odors that are associated with so many pretend-tanners, He-Shi's concoction not only provides plenty of hydrating and anti-aging perks, but it gets the job done without offending your nose. Ready to get your faux glow on? Watch He-Shi's easy-to-follow tutorial video, then prepare your face and body to be bronzed!
Availability: He-Shi Express Liquid Tan ($60). For additional information, visit He-shi.eu.