Why You Should Be Exfoliating Your Scalp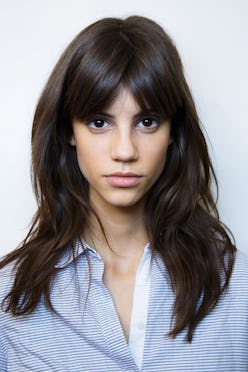 When the temperature drops and your skin gets dry, you exfoliate, right? If you don't think your scalp needs the same attention, think again. Chances are you're spending hours (not to mention a fortune) on conditioning masks, heat protectants, salon visits and luxury shampoos in hopes of getting healthy-looking locks. That's great, but you're missing one crucial step: exfoliating. Here, we tapped celebrity hair guru Christophe Robin for five things you should know about keeping your scalp (and therefore your hair) in the best condition with exfoliation. Teaser: If you have an oily scalp, you're going to love this. If you have a dry, flaky scalp, you will too.
Amazing Hair, This Way
It Works For All Hair Types
Whether your hair gets greasy at the roots or your scalp tends to get irritated from color treating, everyone can benefit from scalp exfoliators. Christophe explains, "A scrub soothes itchiness instantly and rehydrates the scalp, which is the perfect detox treatment in case of irritation, dandruff or greasy roots." Additionally, we all suffer from product buildup no matter how clean you think your hair is. "Your scalp is prone to buildup because most shampoos and conditioners contain too much silicone and it's easy to not always rinse all product away," Christophe says. "Sea salt is a traditional remedy for absorbing any product buildup left on the scalp."
It Can Extend The Life Of Your Blowout
We know this from experience: The cleaner we get our hair in the shampoo process, the longer it will last after the blow-dry session. "A scrub eliminates silicones and residue on the scalp and offers long-lasting freshness," explains Christophe.
It Makes Your Hair Healthier
Stimulating the hair follicle has been known to promote new hair growth and make your mane look shinier and healthier. "Exfoliating the scalp is a great way to remove impurities and let your scalp breathe," says Christophe. "As a result, your hair will look and feel considerably healthier."
It Takes The Place Of Your Regular Shampoo
Scalp exfoliators may seem too harsh to use regularly, but Christophe assures that they can be subbed for a normal shampoo and do not require any processing time. "It can be used as an anti-irritation, post-coloring treatment or simply twice a week as a purifying treatment," he adds. "It won't strip the scalp of essential oils."
How To Use It Correctly
Apply on wet hair and focus on massaging the scalp gently but thoroughly. This will stimulate circulation and remove all buildup. Add water to create a rich lather and be sure to rinse well. Christophe suggests following with a mask from the roots to tips to really nourish your hair and prevent drying.
Discover Box of Style
Upgrade your spring accessories in one simple step: Subscribe to our seasonal Box of Style. The spring edition ships March 1—you don't want to miss this.